Posting on Monday morning – from Exeter – about Sunday, June 11th
Jamestown – Railtown 1897 train ride – grasslands – Mining and Mineral Museum – Exeter
---
Starting with a Train Ride
My first stop on Sunday, less than five minutes from the Miners Motel in Jamestown, was Railtown 1897, a California State Historic Park. Thanks to my constitutional inability to be up and out early in the morning I was already on a pretty tight schedule to see everything I wanted to see and arrive at my next town while I still had some daylight. I had to make a choice between seeing the museum and riding the train. I have seen a lot of train museums. So a train ride it was, behind a 1952 diesel locomotive, in an open air car. Their famous movie-star steam locomotive is apparently in the shop. If I remember correctly there's a crack in the fire box which is going to require significant repairs at significant expense.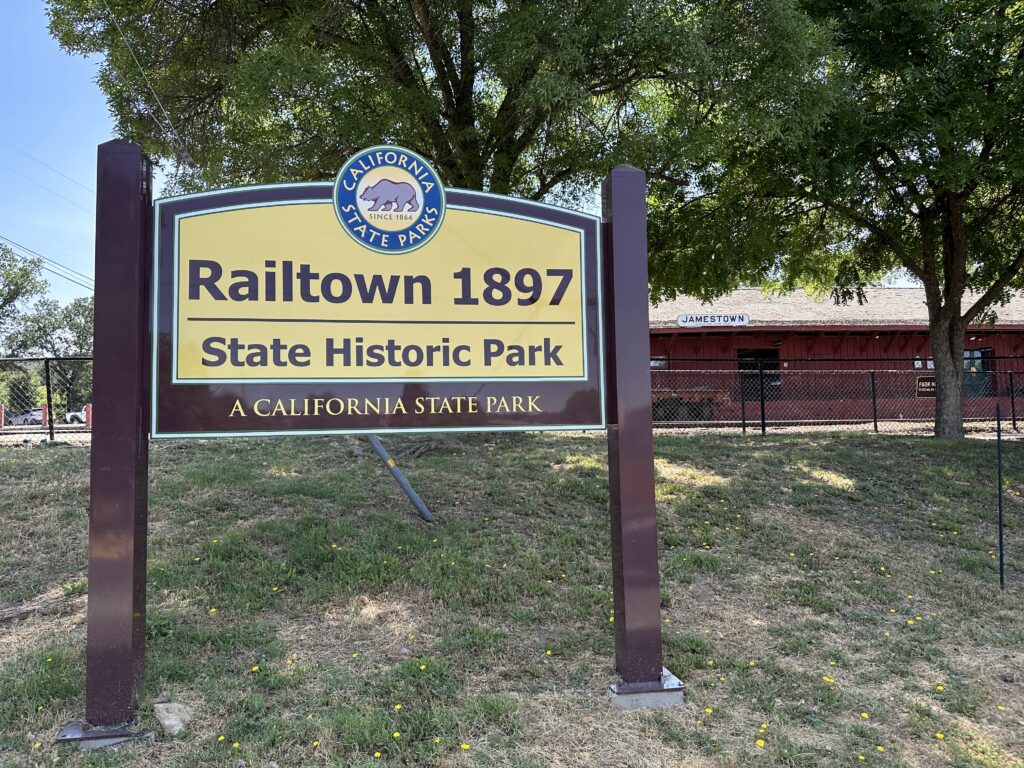 While waiting for the previous ride to return and unload, I got to talking with some of the volunteers there. One used to be affiliated with our local train museum in Campo, and is now a full-time employee at Railtown. He said making the change from living in the San Diego area to Jamestown was a big change for him, but it was a dream job and he was very happy to be there.
I did not get to meet our engineer, but was told she was training to qualify first on the diesel locomotive, and then later will also qualify on the steam locomotive. Women are becoming more common in railroad professions, and it was good to see one advancing through the ranks in a museum railway.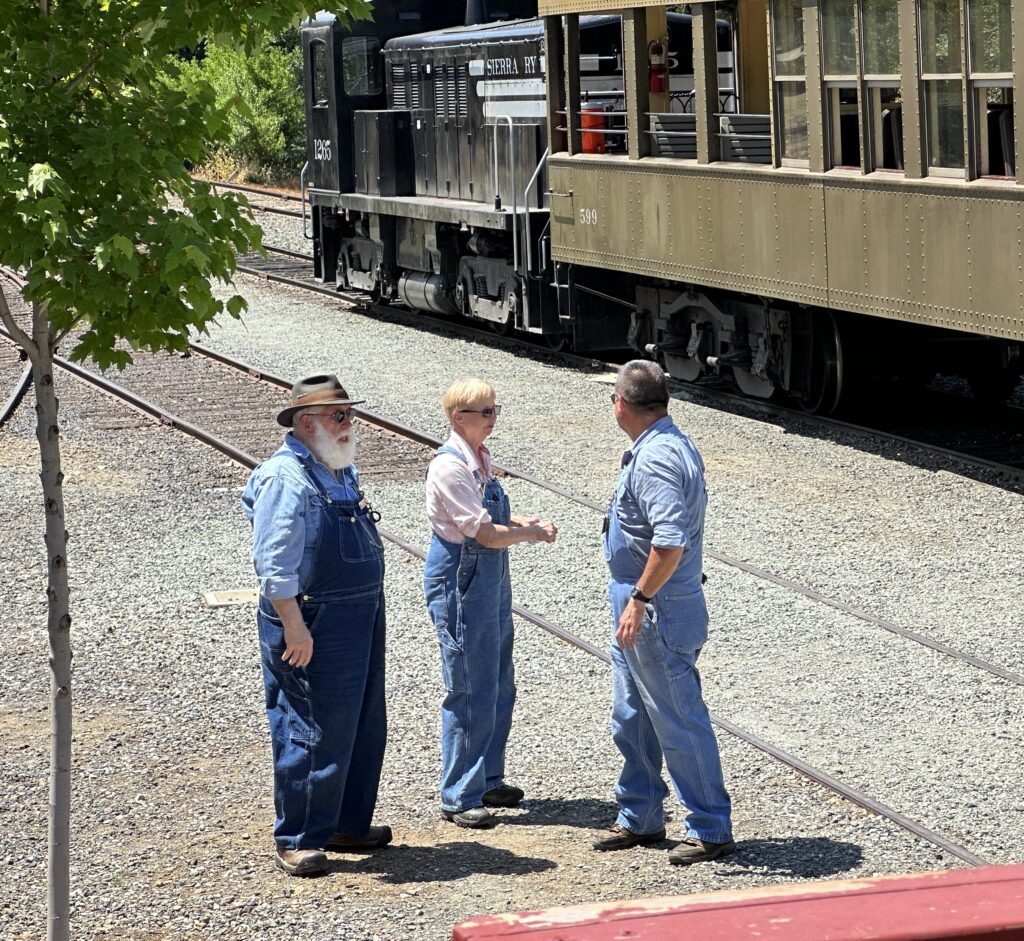 The ride itself was very pleasant — slowly clambering across pretty countryside — and a volunteer docent pointed out sites along the way and told us about the history of the railroad, the equipment, and the area.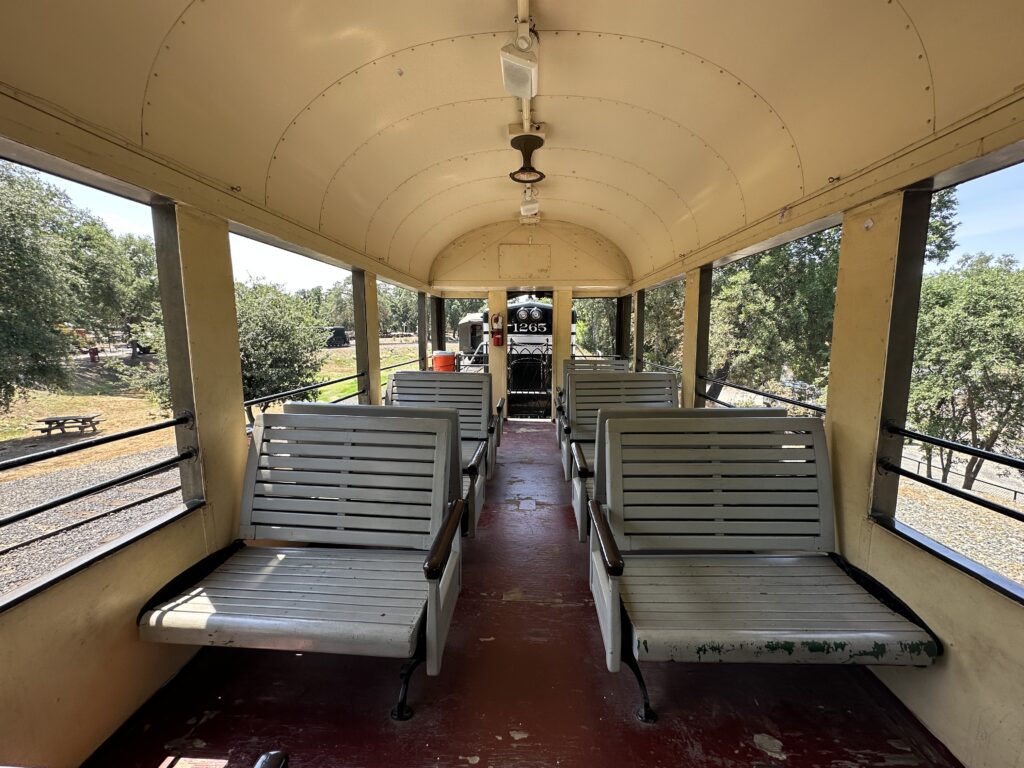 Taking the Back Roads
After leaving Railtown I drove from Jamestown to Exeter via some beautiful back roads in the lower foothills, where the scenery is miles and miles of rolling golden grassy hills sprinkled with oak trees, with a few small herds of cattle here and there. There were a few places where there were quite a lot of cars, mostly going the other direction, but then there would be vast stretches where I saw no one at all. Kind of surprising, because these would've been the perfect roads for a Sunday drive, but it seemed no one was out.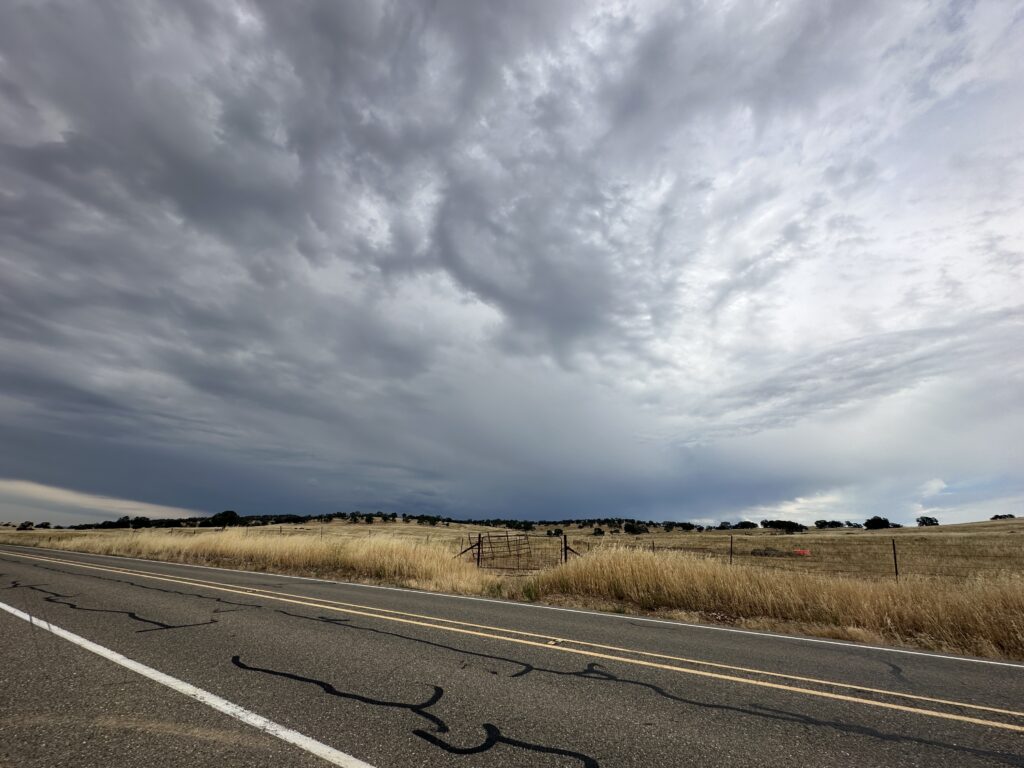 I was judiciously avoiding the harrowing section of Highway 49 between Jamestown and Mariposa that I had discovered on the way north. (I mentioned it to a couple of locals during my adventures on Sunday and they agreed that it's a pretty sketchy stretch of road.)
It turned out to be a very good thing that I found a different route, because it let me see a whole new part of the state. In addition to the endless golden hills, I got to see some very small old towns that don't get a lot of tourist traffic. I had entered them in my mapping app so it would take me via the roads I wanted, but it also took me a little tours of each town.
I got to see Snelling, Le Grand, and Hornitos, and revisited the Merced River, which you may recall flows out of Yosemite. Plus I found a little family-run fruit stand where I was able to restock on cherries – one of the convenient road foods I've been living on. And I don't know if you can see it in the photo, but there was a horse at the charter school in Le Grand. It turned out to be part of the mowing crew, along with several goats and a donkey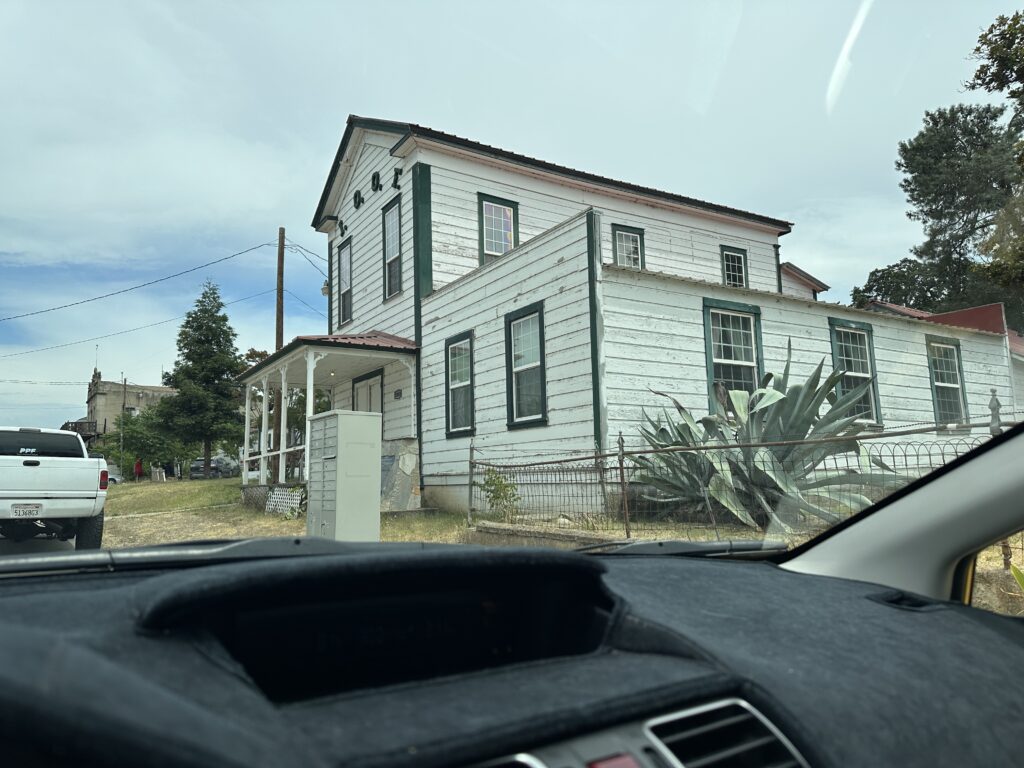 Museum of Mining and Minerals
I had wanted to stop by this museum on the way north, but because I went to Yosemite at the last minute I wasn't able to get to it. But on Sunday made it there. It's a small facility in a weird place — kind of the back corner of the fairgrounds. It has an abandoned feeling when you drive up. But it's actually a very complete and well presented museum, and the staff were helpful and knowledgeable.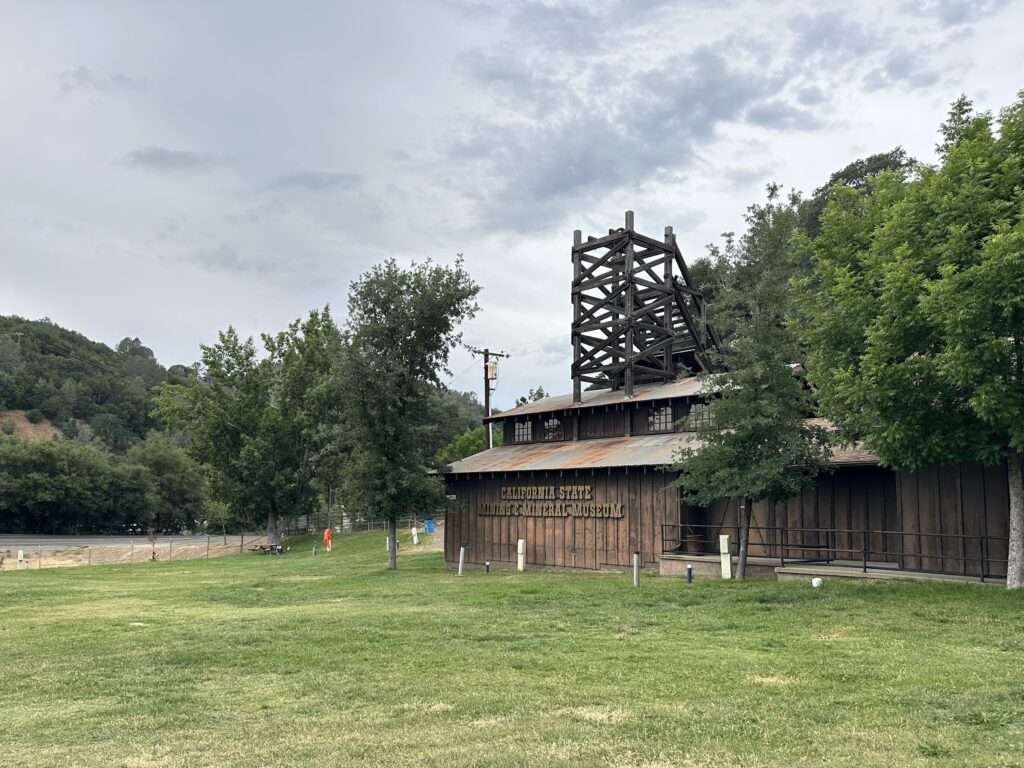 The weird thing, though, is that they don't allow any photography inside the museum! They do however, let you take notes.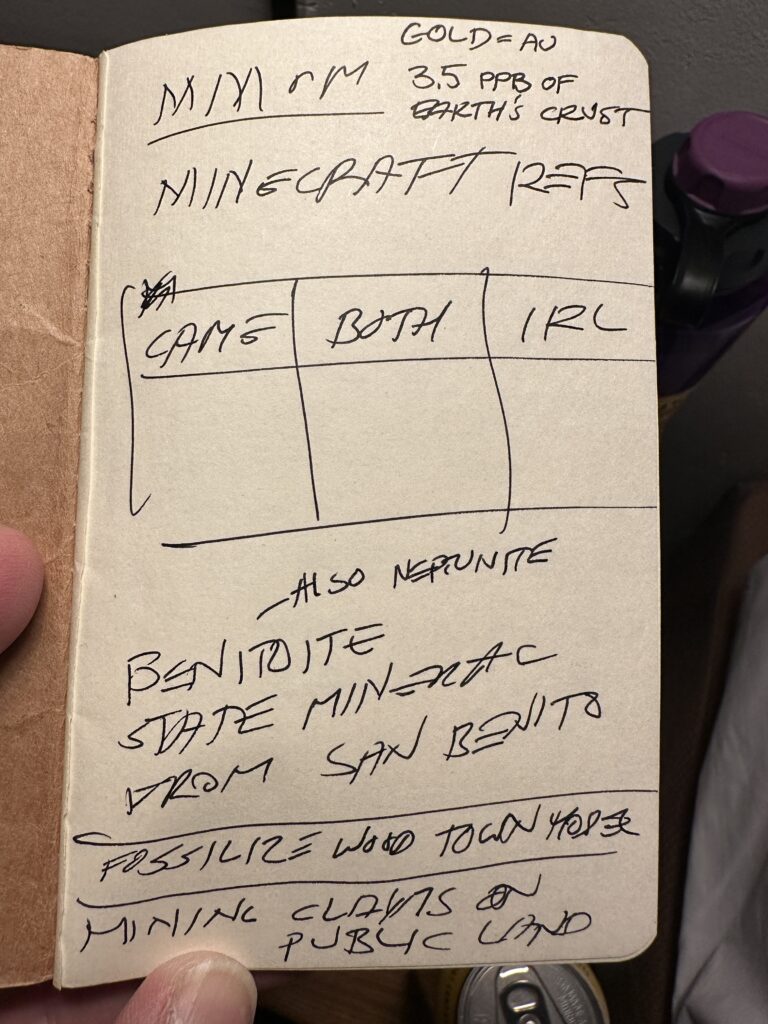 There were exhibits explaining how gold mining works, and impressive examples of minerals from various parts of California, plus a few from other states and around the world. They had examples of tourmalines and other minerals from San Diego County that were much bigger than any I had seen in local displays back home. And of course examples of gold — nuggets, flakes, or, gold leaf, and crystalline gold. Here are a couple of images from the brochure: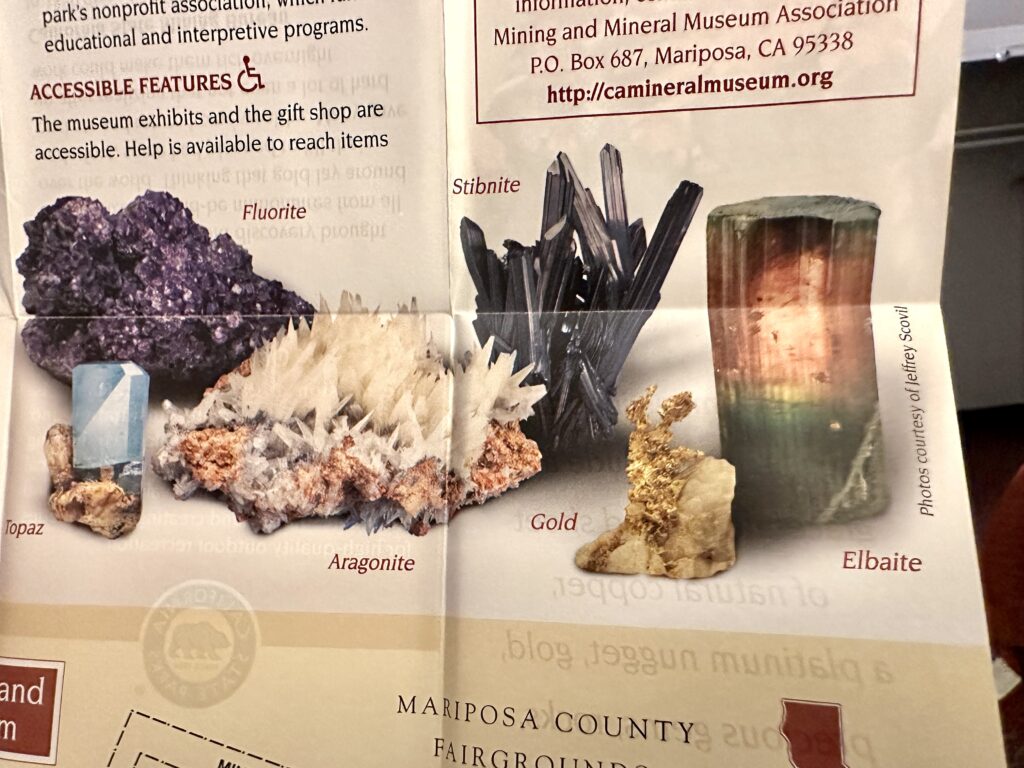 The Kaweah Motel
All of the places I've stayed on this trip have been modest, but decent. Clean, friendly, safe. That's all I ask, really. But this place is nice! It's an inexpensive little roadside motel — the kind of place where you park right in front of your room and there's a pool in the middle of the parking lot, near the road.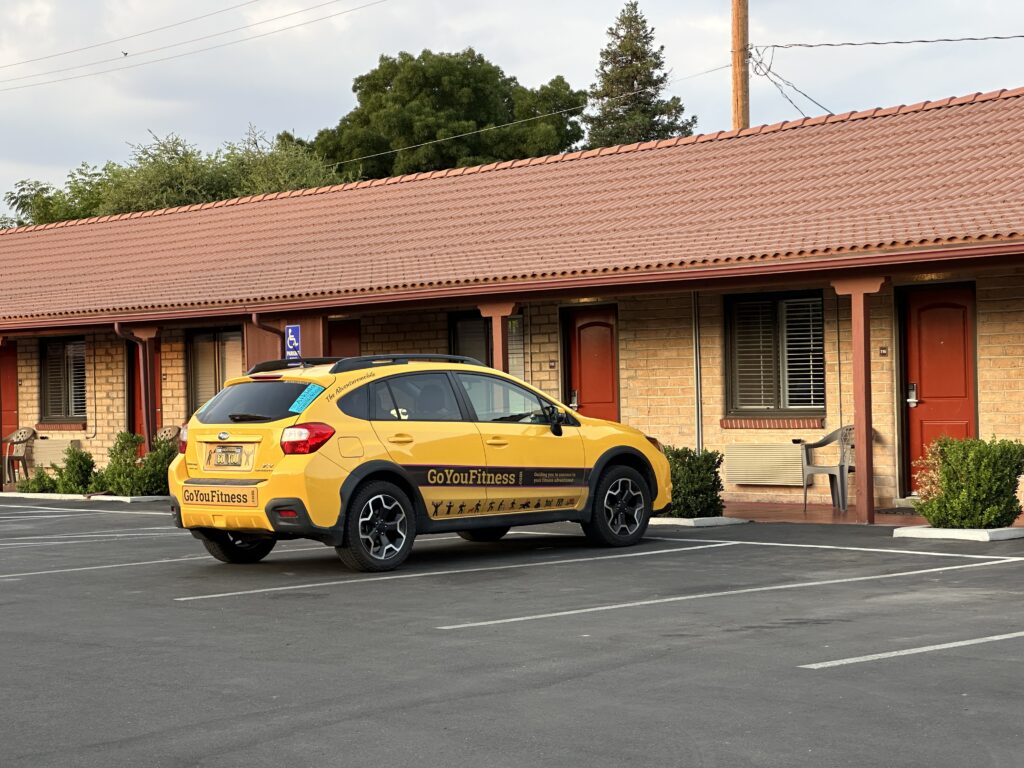 The Kaweah Motel is meticulously refurbished and maintained. All new doors, trim, paint, carpeting, etc. The landscaping is tidy, the pavement is solid, and the pool looks like somewhere you would actually want to swim or hang out. The mattress is firm and comfortable, the refrigerator is cold, and the lights in the room are bright enough to read by.
The owners were sitting on the porch swing near the pool when I went to get something from my car after picking up dinner and locked myself out. They graciously let me back into my room. I even have a neighbor with two small kids who says she stays here quite often and loves it.
I'm impressed. Absolutely stay here if you are passing through the San Joaquin Valley.
My Aiki Road Trip 2023
This post is part of a series: My Aiki Road Trip 2023. For about two weeks I'm sharing my adventures and photos on my way to the Aikido at Granlibakken retreat at Lake Tahoe, insights and fun during a week of great Aikido training with dear friends, and the trip back. I'm driving through the Mojave Desert, San Joaquin Valley, California's Gold Country, and High Sierra, exploring the historic water situation — rivers, reservoirs, dams, flooding, and Tulare Lake, plus gold rush history, and amazing nature and scenery.
At the bottom of each post I include resources for further exploration about each day's adventures – books, videos, maps, links, images, etc.. For the trip in general, here are more California History Resources for Road Trips.
I mostly posted these from my phone, with limited Internet access. There may be typos and glitches. I'll come back to fix them later. You can email me at [email protected].
Up Next…
Today is primarily about getting home. Somewhere between 300 and 400 miles, depending on the route.
I had considered going over Walker Pass to see the Kern River and Lake Isabella, then heading south through the Mojave desert on Highway 395. But that would add two hours of driving, and that's before considering stopping to look around, plus the construction and one-way traffic controls going on over the pass because of the damage the river has done to the road. That could make for a very long day.
My thinking at the moment is that I will go straight down Highway 65 from here to Bakersfield, then Highway 99 until it joins up with Interstate 5. It's been a while since I've been over "The Grapevine" (Tejon Pass), and I would be able to see Fort Tejon, and make a stop at the Pyramid Lake visitor center, which is essentially a museum dedicated to the management and movement of water throughout the state. That might be an appropriate last hurrah for my big road trip.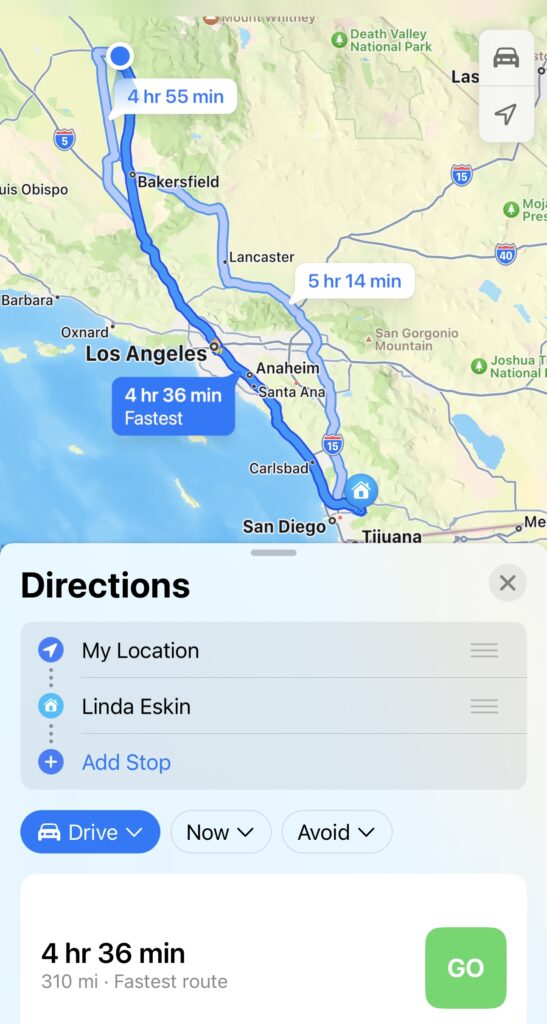 ---
Be sure to check out my post, California History Resources for Road Trips, where I share several excellent books/audiobooks, tours, videos, and websites.
---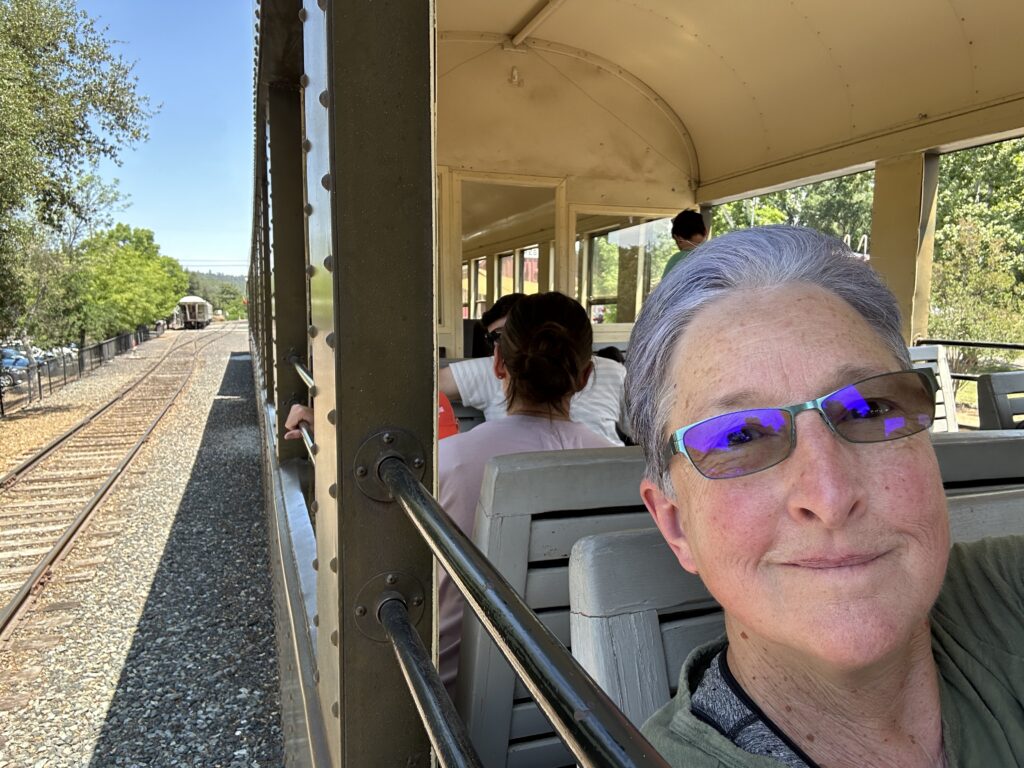 ---
About the Author — Linda Eskin
Linda Eskin began practicing Aikido in 2009, at age 46. From the beginning she was inspired to explore how Aikido is taught and learned. In addition to mentoring adults, and now teaching a weekly Focus on Fundamentals class for students of all ranks, she assisted in the children's programs for over eight years.
Linda loves Aikido both from the technical perspective, and as a practice of awareness and embodiment. She is completing her forthcoming book, Aikido to Zanshin – 26 Essays on the Martial Art of Peace.
Linda's passion is encouraging people to begin, and supporting new learners of all ages.
Linda trains with Dave Goldberg Sensei at Aikido of San Diego, in California, and holds the third black belt rank, sandan.