Posting on Sunday morning – from Jamestown – about Saturday, June 10th
Placerville – Historic Cary House Hotel – Calaveras Big Trees – Jamestown
---
Saturday was pretty simple — a quiet, enjoyable day. I hung out for a short while in Placerville, headed down Highway 49 and up the hill to see Calaveras Big Trees State Park, and finally drove down to Jamestown.
Historic Cary House Hotel
Most of the places I am staying on this trip are very modest. Usually old roadside motels that have been refurbished (somewhat). Typically under $100 a night. My big exception to this was in Placerville where I stayed in a historic hotel built during the gold rush days. It was an interesting combination of opulent and ancient. Very comfortable and casual. Homey. Not pretentious at all. And the young man working the front desk said he was pretty sure their elevator is the oldest operating elevator in the state.
Even as special as it is, and being about twice my usual budget, it is still one of the least expensive places in town. Possibly something to do with a dramatic little elevator, and waiting 10 minutes for hot water to arrive at your room for a shower.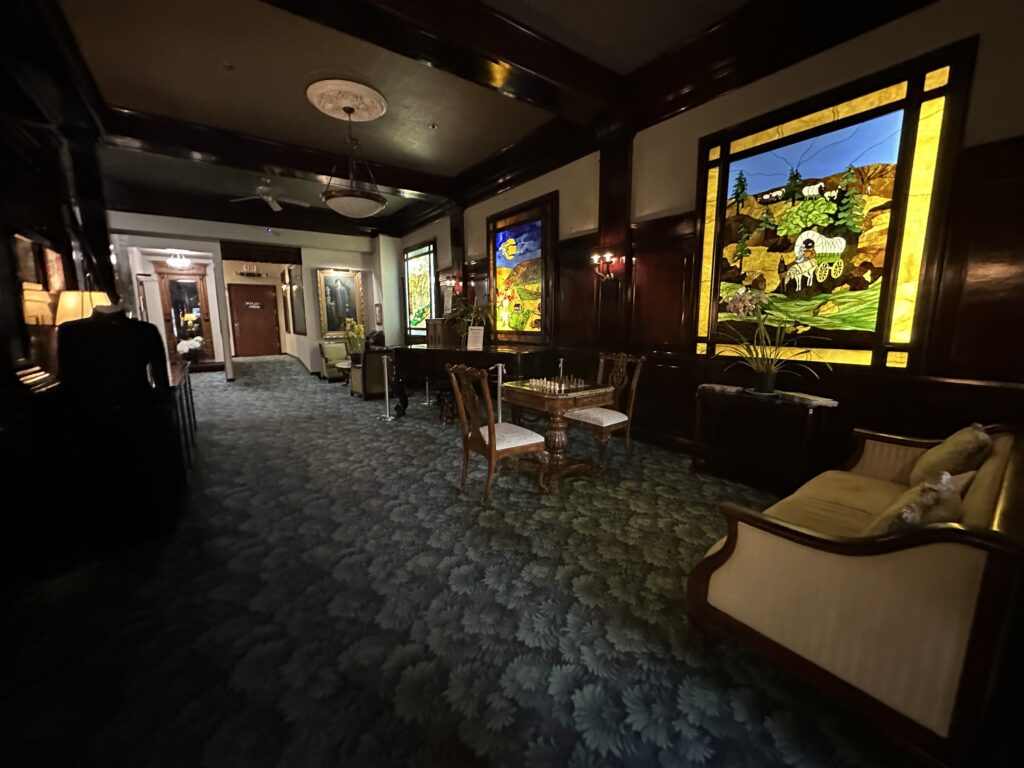 I think I had the best room in the place – on the top floor on the corner overlooking all of the old downtown area.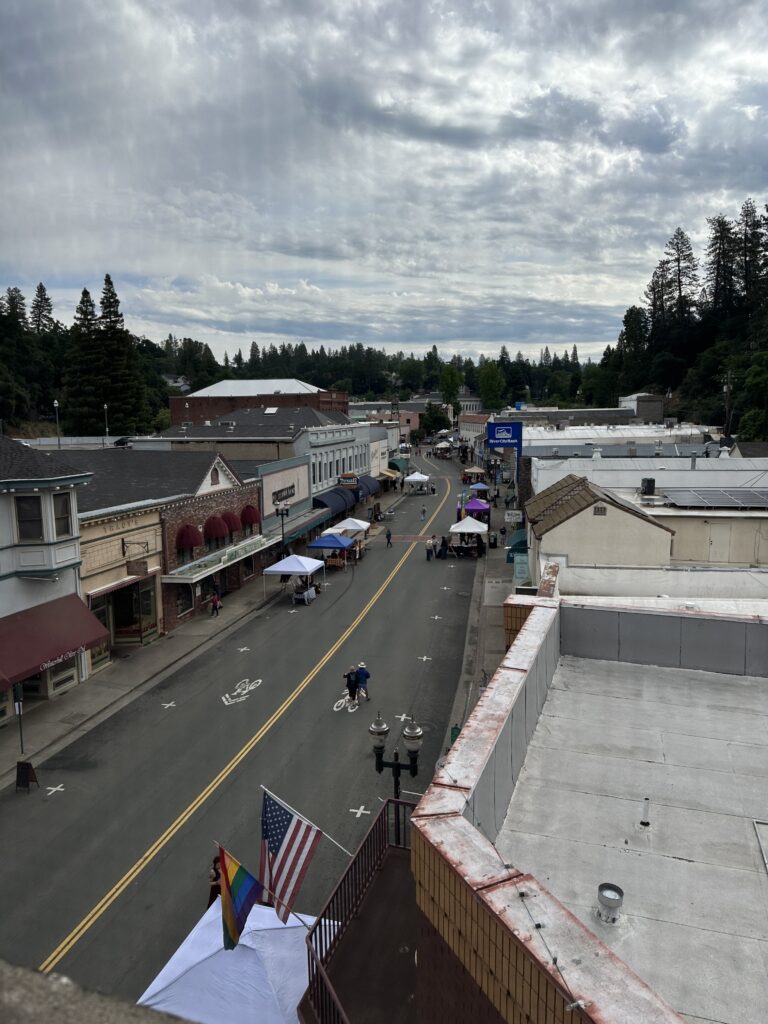 After checking out of the hotel I walked around the town where a street festival just happened to be going on. A couple of nice locals pointed me in the direction of a good coffee place, and later saw me and checked in on how it had worked out. There were lots of vendors selling antiques, a contingent of buffalo soldiers, and some ladies in period dress in front of the yarn shop demonstrating spinning. It had been a dark, cool morning, and while I was wandering and sipping my coffee it started to drizzle.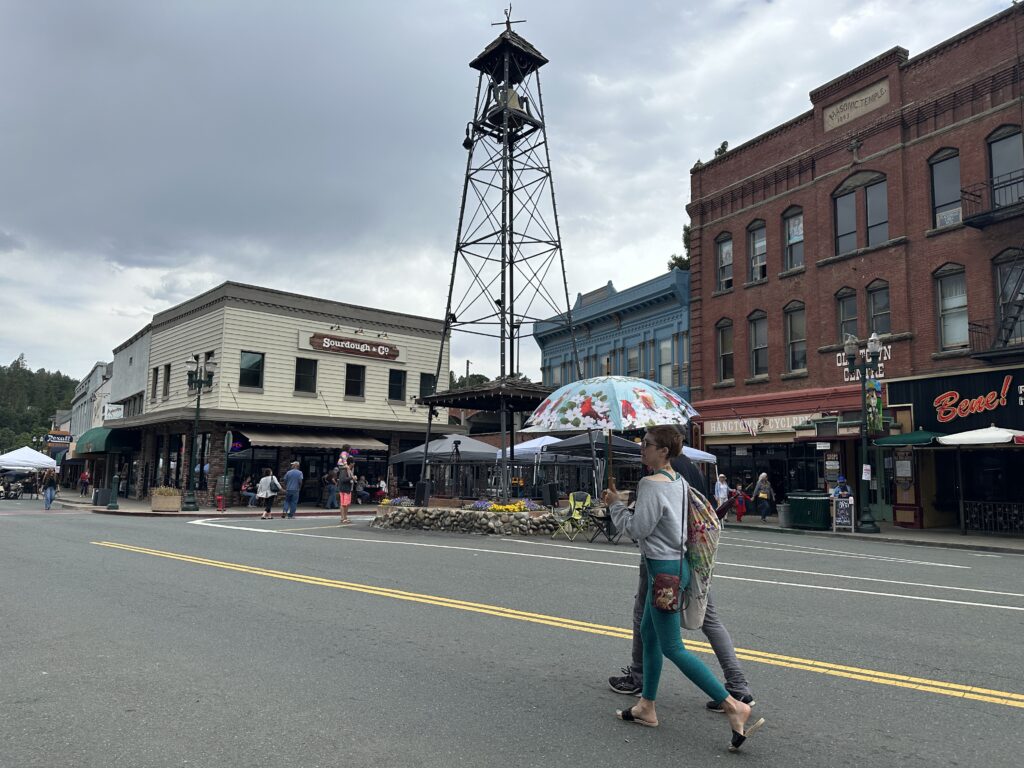 The annual event was to include a historical re-creation of the first wagon train arising in town. Unfortunately, it wasn't to happen until three in the afternoon, which meant I had the choice of standing around in the rain for 3 1/2 hours to see the horses and wagons, or get moving and see some of the biggest trees in the world. I opted for the latter. So I picked up a couple of interesting cheeses to keep me going until dinner time, squeezed into my car, and headed for the hills.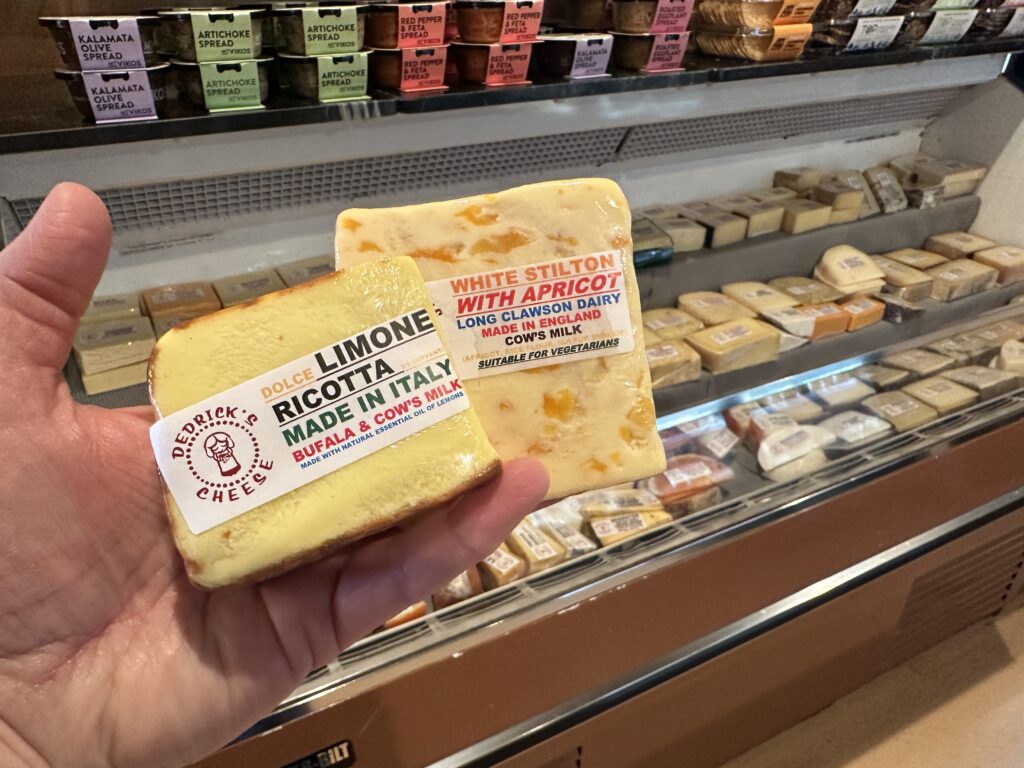 The woman running the cheese shop told me the lemon ricotta tasted like lemon cheesecake, but not sweet. She was correct! The white Stilton with apricots was exactly as I expected — mild and sweet and chewy. Both delicious.
My Aiki Road Trip 2023
This post is part of a series: My Aiki Road Trip 2023. For about two weeks I'm sharing my adventures and photos on my way to the Aikido at Granlibakken retreat at Lake Tahoe, insights and fun during a week of great Aikido training with dear friends, and the trip back. I'm driving through the Mojave Desert, San Joaquin Valley, California's Gold Country, and High Sierra, exploring the historic water situation — rivers, reservoirs, dams, flooding, and Tulare Lake, plus gold rush history, and amazing nature and scenery.
At the bottom of each post I include resources for further exploration about each day's adventures – books, videos, maps, links, images, etc.. For the trip in general, here are more California History Resources for Road Trips.
I mostly posted these from my phone, with limited Internet access. There may be typos and glitches. I'll come back to fix them later. You can email me at [email protected].
BIG Trees
My only major stop today was Calaveras Big Trees State Park, just up the hill from Angels Camp. I had meant to see it on the way north, but went to Yosemite that day instead. I realized in the morning as I was reviewing my route that I could get there on my way to Jamestown, and would have plenty of time to enjoy a hike out in nature.
I stopped by the visitor center briefly to get oriented and use their Wi-Fi, then set out on a loop hike — the kind with numbers and a booklet. It was very well done with lots of good information.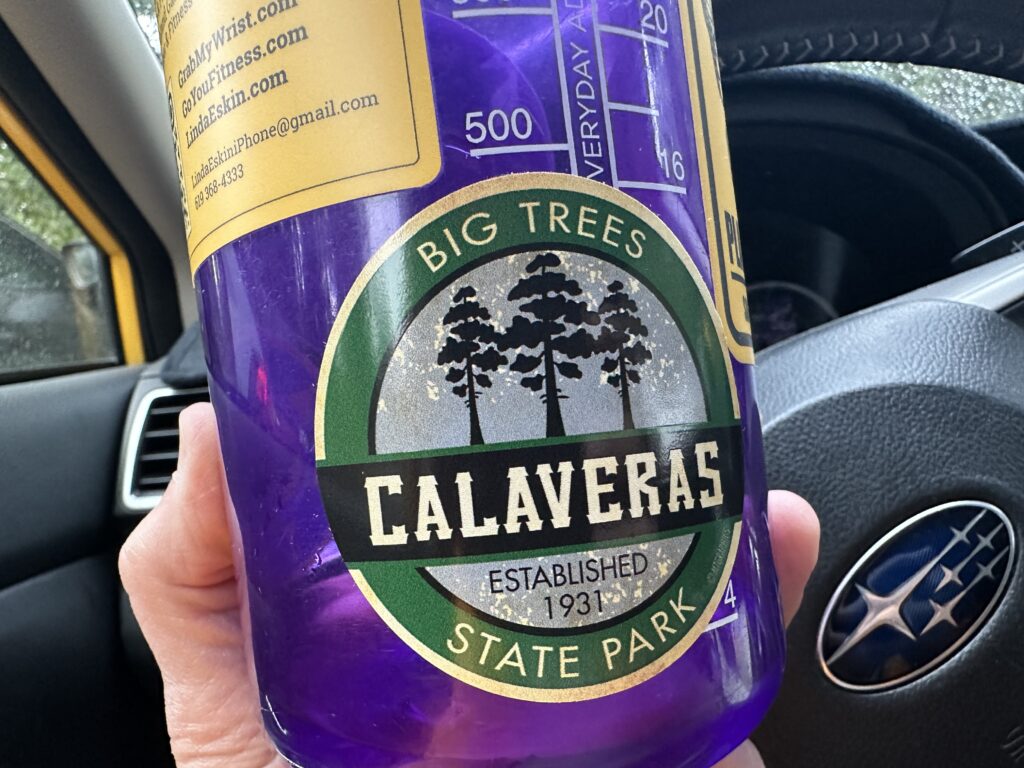 The only problem was that it started raining, complete with lightning and thunder, just about the time I was ready to set out. Hmmph.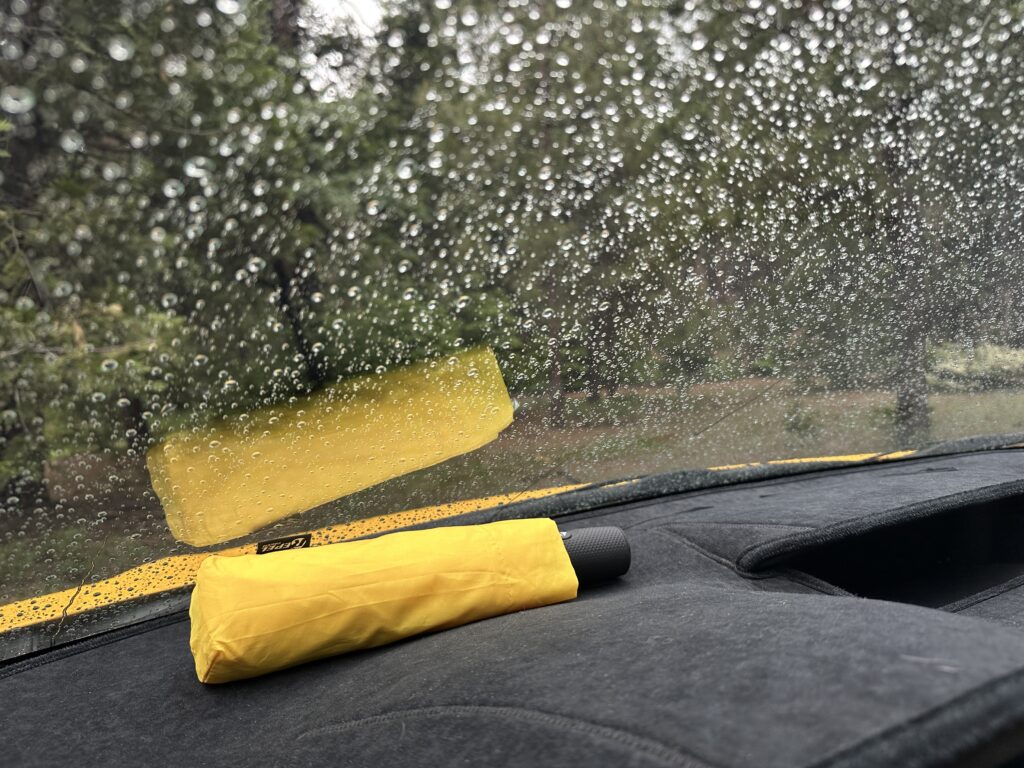 Sometimes one just has to do stupid things, going hiking in a thunderstorm among the tallest trees in the world probably qualifies as stupid, but I threw on my rain gear and headed out just the same. I was in good company — there were quite a few people on the trail. Everyone was in good spirits, with people taking photos for each other, and sharing photo tips, like using Pano mode vertically to capture these immense trees in one shot.
If you haven't seen any of the giant redwoods in California, either in Sequoia and Kings Canyon, here at Calaveras, or in the coastal redwoods, make a point to do so. It's absolutely amazing to consider the size and age of these trees. I think anyone with even a passing interest would probably love the book Trees in Paradise, which presents California history in terms of several kinds of trees, one being redwoods..
I took hundreds of photos. Here are six of them: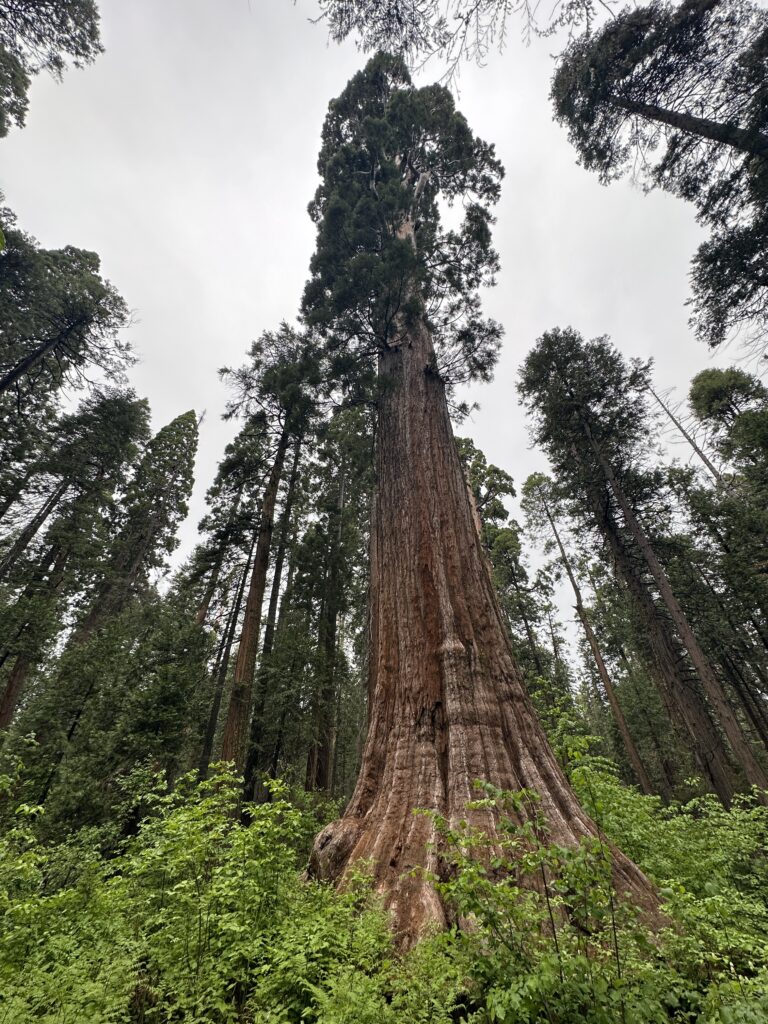 I took a couple of photos that I airdropped to the people in them. They were delighted! In one, a little girl was looking up at a giant tree. I sent that one to her dad. In another, a couple were walking hand-in-hand on the trail coming toward me as I got a pretty decent photo of them, so shared it as well. I took some pictures of one group of girlfriends out on an adventure, and they got a few of me as well.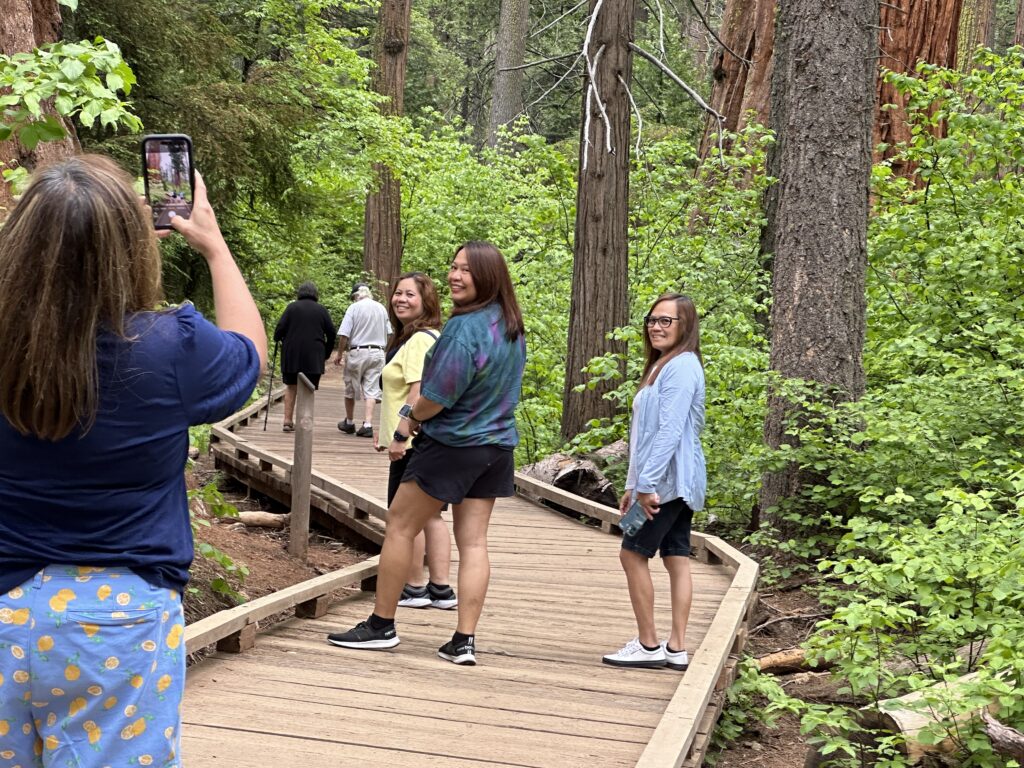 "… so I rode to the Big Trees, the celebrated Calaveras Grove, fifteen miles from Murphy's.

There is a fine stage road over the hills, abounding in rather picturesque views. The way is mostly through an open forest and there is nothing to indicate the near presence of any such vegetable wonders—one is even inclined to doubt the truth of the guideboard which proclaims "1/4 mile to the Big Trees." One sees nothing to indicate any such thing, until crossing a little hill, one enters the valley and the grove. The first two trees, "The Sentinels," stand one on each side of the road, like two faithful sentinels, truly, and huge ones they are.

There are about ninety trees of this species in this grove, which is in a valley, sheltered from the winds. The prevailing trees are sugar pine, pitch pine, false cedar (called here arbor vitae,1 Douglas spruce, and silver fir—all of which grow to a large size, often over two hundred feet high and ten feet in diameter, so the "big trees" always disappoint the visitor. They do not seem as large as they really are, but on acquaintance they grow on the mind, so that in a day or two they can be appreciated in all of their gigantic proportions. I measured over a dozen and found that the measurements popularly given are about correct. …"

Up and Down California in 1860-1864: The Journal of William H. Brewer
Today's Fun
Today starts out right here in Jamestown. I am heading over to the Railtown 1897 State Historic Park. It is an outpost of the state train museum in Sacramento, and one of the exhibits is a steam train that has been in something like 300 television shows and films, including Petticoat Junction and Back to the Future. If there is a train running today – that one or any other – I'm going to ride it.
Here's a video from the state park itself that you might enjoy: https://youtu.be/aehO3mZz_p4
Next is puttering southbound through the lower foothills. On my trip north I came into Jamestown via Highway 49 from Mariposa, and that is not a drive I would care to repeat, especially not on the southbound side of the road which is the one nearest the steep drop-offs.
If I have time I might make it to the California State Museum of Mining and Minerals. It is supposed to be excellent, and that's another thing that got skipped in favor of visiting Yosemite on the way north.
Off to see some trains!
---
Be sure to check out my post, California History Resources for Road Trips, where I share several excellent books/audiobooks, tours, videos, and websites.
---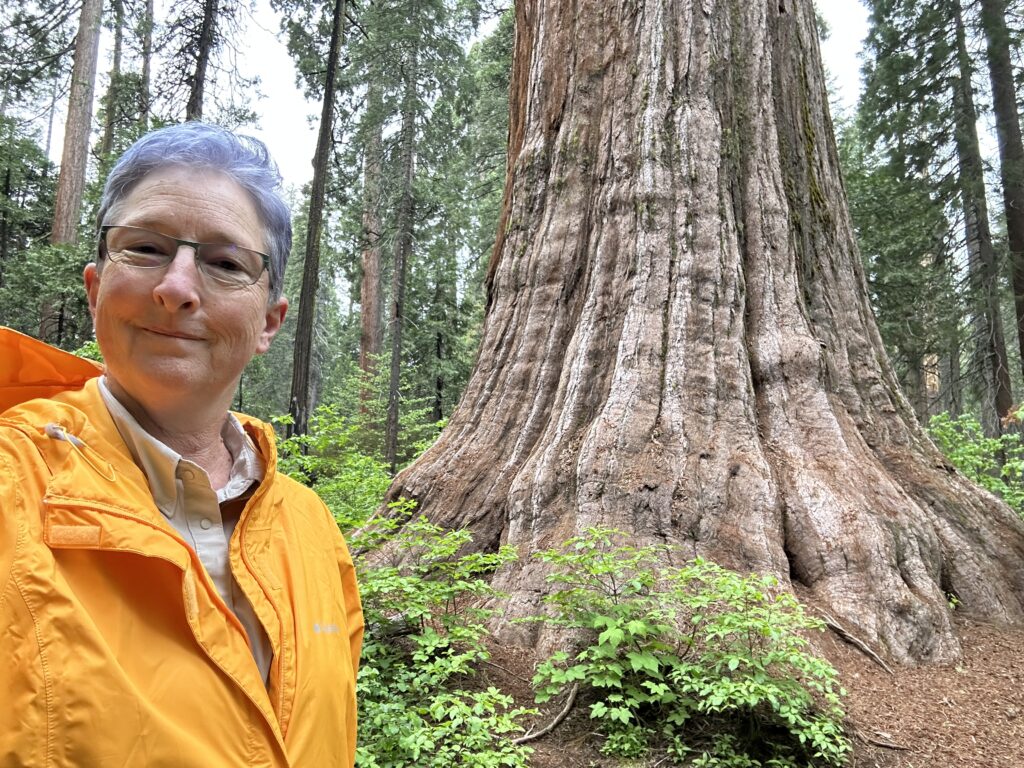 ---
About the Author — Linda Eskin
Linda Eskin began practicing Aikido in 2009, at age 46. From the beginning she was inspired to explore how Aikido is taught and learned. In addition to mentoring adults, and now teaching a weekly Focus on Fundamentals class for students of all ranks, she assisted in the children's programs for over eight years.
Linda loves Aikido both from the technical perspective, and as a practice of awareness and embodiment. She is completing her forthcoming book, Aikido to Zanshin – 26 Essays on the Martial Art of Peace.
Linda's passion is encouraging people to begin, and supporting new learners of all ages.
Linda trains with Dave Goldberg Sensei at Aikido of San Diego, in California, and holds the third black belt rank, sandan.