Posting on Thursday morning – from Fresno – about Wednesday, May 31
Heading out – Cajon Pass – Tehachapi Pass – Kern River – Allensworth – Tulare Lake – Fresno
---
First, a comment: is very challenging to format and correct posts on the phone, which is what I am doing. So some things may be out of order, and I even lost a whole paragraph that might reappear somewhere unexpected. Because it is so challenging to finalize a post I'm going to simplify them a bit after this one. I can't be spending hours each day trying to post a few thoughts.
On my first day out I blew past the familiar sites along my route and made a bee-line for the Kern River and Tulare Lake, to see a rare sight in California: too much water.
Well, not exactly… California never actually has "too much water," it's just that water tends to arrive in one place and time, when it's needed in another. Water storage and management projects are a major part of the California landscape, and yesterday I got to see examples of what happens when they work as planned, and what happens when they get overwhelmed.
My Aiki Road Trip 2023
This post is part of a series: My Aiki Road Trip 2023. For about two weeks I'm sharing my adventures and photos on my way to the Aikido at Granlibakken retreat at Lake Tahoe, insights and fun during a week of great Aikido training with dear friends, and the trip back. I'm driving through the Mojave Desert, San Joaquin Valley, California's Gold Country, and High Sierra, exploring the historic water situation — rivers, reservoirs, dams, flooding, and Tulare Lake, plus gold rush history, and amazing nature and scenery.
At the bottom of each post I include resources for further exploration about each day's adventures – books, videos, maps, links, images, etc.. For the trip in general, here are more California History Resources for Road Trips.
I mostly posted these from my phone, with limited Internet access. There may be typos and glitches. I'll come back to fix them later. You can email me at [email protected].
A Good Night's Rest
This morning I'm writing from the Best Western in Fresno. I will be going downstairs for the included breakfast before I head out. That's always interesting. I packed back-up food, just in case.
This is the only "normal" hotel I'm staying at on my trip, in a major city. The retreat itself is at a mountain resort. Aside from that, all my lodging will be at small old "mom and pop" motels in small towns, and one historic hotel in the Gold Country. My goal was to find places under $100 per night — not only because they are inexpensive, but because they are interesting. But no reviews mentioning funky smells, mysterious stains, or bug infestations. Eew… They have to be decent places.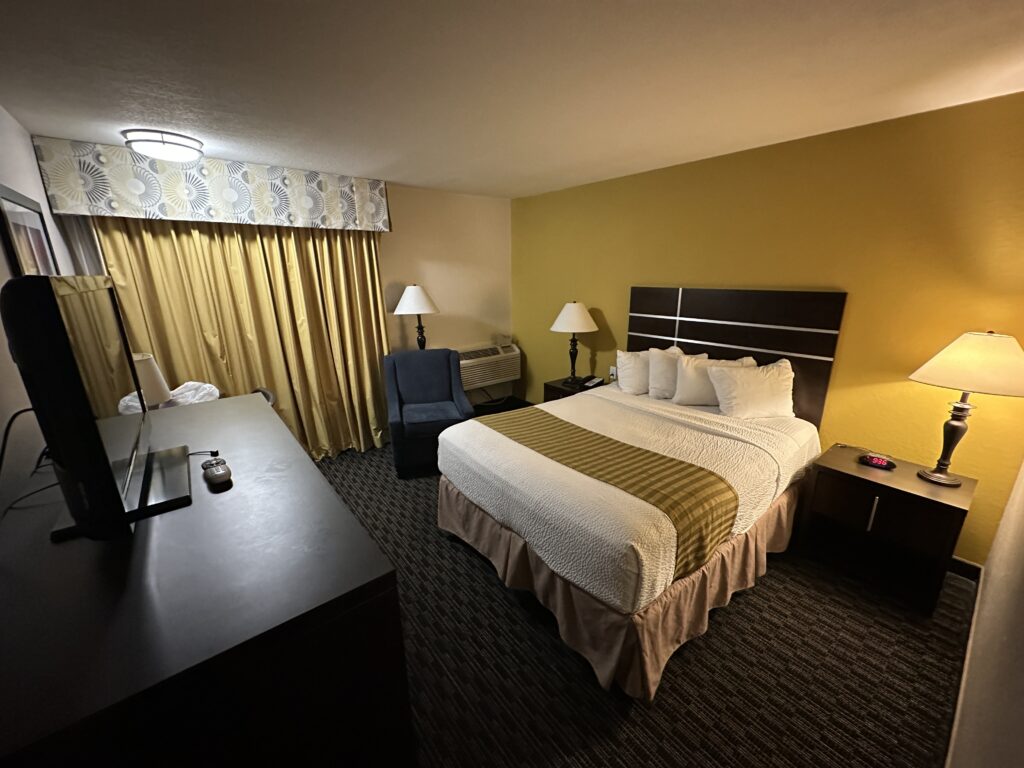 The front desk last night was staffed by one of those wonderful salty, no-bullshit women who look out for their customers and don't take any crap. She told me a few interesting stories as I was checking in. I wonder if the truck driver who pulled a semi (with 50' trailer!) into the little parking lot last night ever made it out? The woman at the front desk had blocking off some parking spaces so he would be able to swing wide enough to make a tricky turn.
Fresno and the San Joaquin Valley
Fresno is a major city — big enough to have a "skyline," which is saying something in this area, where are most towns might have a stoplight or two. But it was a little different back in the 1860s:
"Fresno "City" consists of one large house, very dilapidated, one small ditto, one barn, one small dilapidated and empty warehouse, and a corral.1 It is surrounded by swamps, now covered with rushes, the green of which was cheering to the eye after the desolation through which we had passed. These swamps extend southeast to Tulare Lake."

Up and Down California in 1860-1864: The Journal of William H. Brewer
There is a lot of progress in the valley, and also a lot of decay. Abandoned agricultural buildings, and also work on new viaducts for high speed rail project.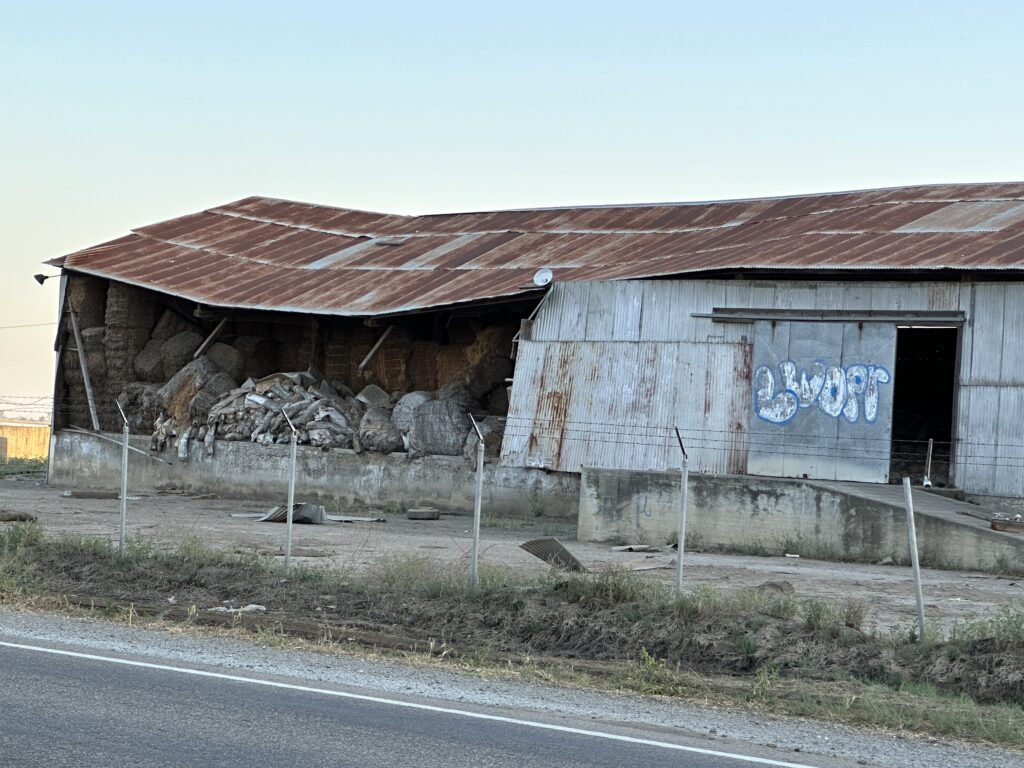 The Kern River
I was able to see a bit of the Kern River, well below Lake Isabella, just east of Bakersfield at Hart Memorial Park. It was pretty impressive! You could hear it well before you even reach the levee.
It is too full for rapids – the rocks are too far below the surface, but the rate of flow is incredible, and clearly visible in the swirling water. Trees that are normally standing on dry ground are several feet deep in the water.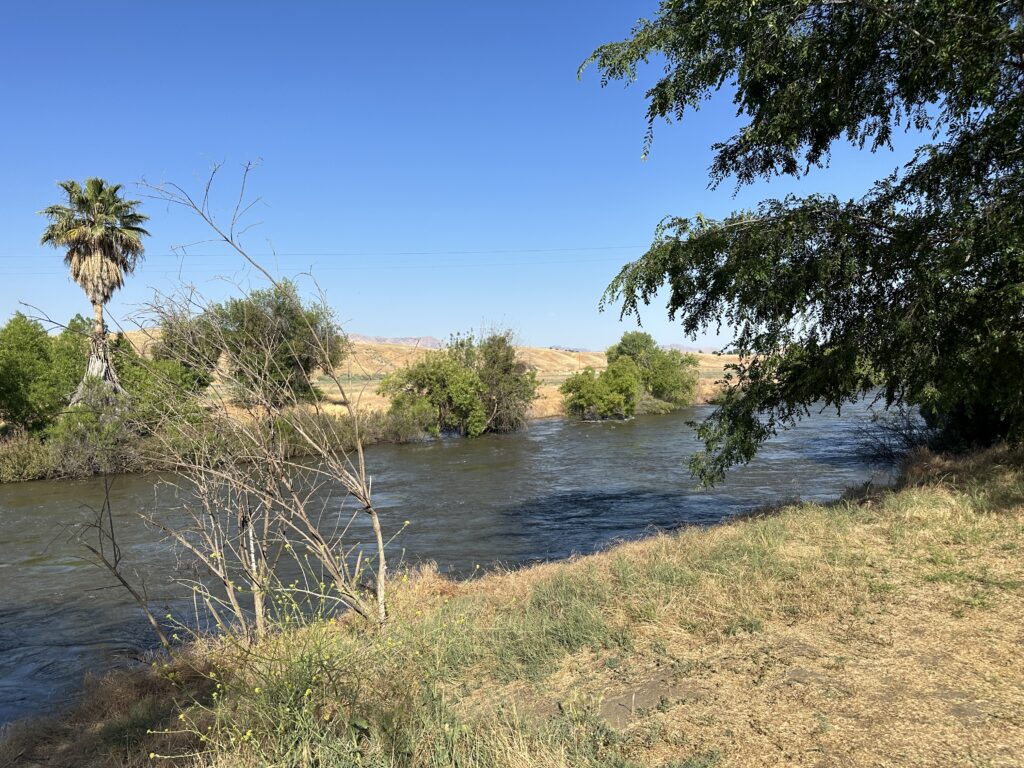 Blinded by Oil and Bugs
When leaving the river I made a point of cleaning the inside of my windshield, so I could see well as I was driving into the sun, going west toward Tulare Lake. Ha! It seems the rag I tossed in my car handsome oil or something on it. Now my windshield is a greasy mess. I might actually try to stop at a detailing place en route, and see if they have any magical solution that can clean it off.
I also need to learn what takes off windshield bugs. I use wiper fluid that is supposed to help with that, but it really doesn't. Windex really isn't up to it either. Driving into headlights on two-lane roads after dark when your windshield is covered with splattered bugs is no fun. That seems like something a local would have to know. I think I will ask at the front desk after breakfast.
Strategic Packing
I packed things in a new way for this trip. Instead of toiletries, chargers, etc. being grouped together by category, this time I put everything I would need in the bathroom in one bin, everything I would need at the nightstand in another, etc.
That's working great, but I realized another thing might make life even easier, and that would be to pack each night's clothing in a separate bag, so all I would need to carry into the hotel is the one change of clothes I would need for the next day, not all the clothes for my whole trip.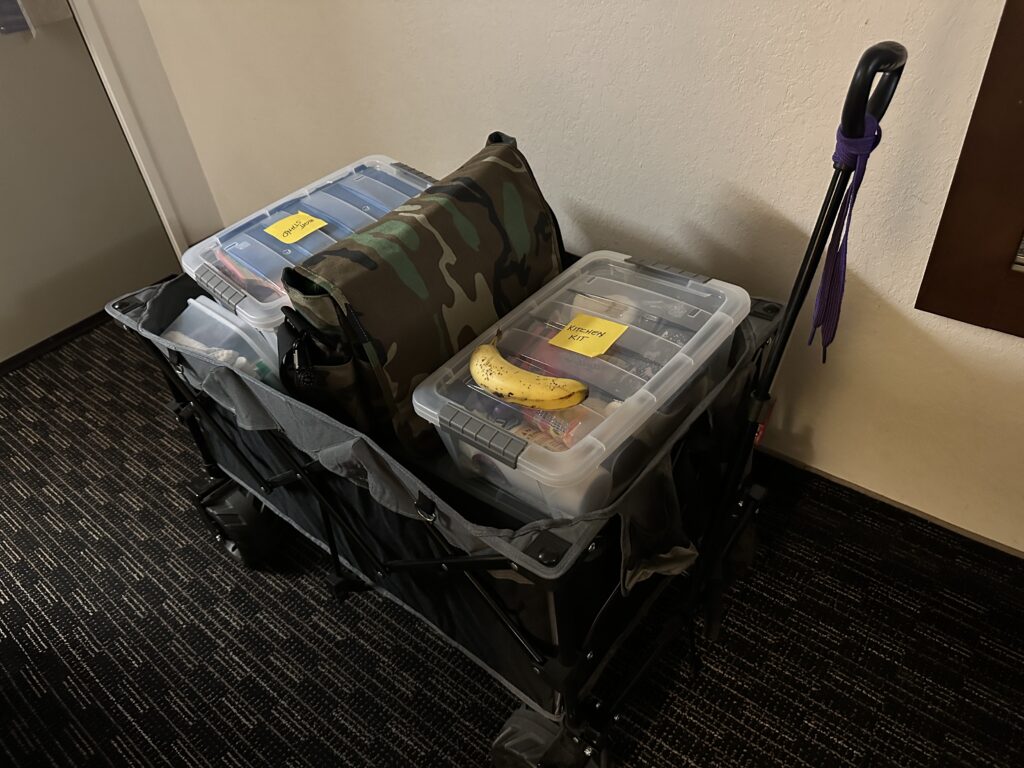 My challenge with packing for two weeks is that you basically need everything. It's not like you can toss a few things in an overnight bag. I have to say the folding wagon that I got for going to Highland games is better than sliced bread. Just the perfect thing for hauling a bunch of stuff and one easy trip.
Trains
Starting over Tehachapi pass, and then all up the San Joaquin Valley there are trains. Mostly freight trains, but one Amtrak route as well.
I got to see a few fairly close up, two especially, when I tried to make a brief stop at Allensworth State Historic Park. I was so late that everything would have been closed, but you can still walk around and look at the exteriors of the buildings. But it turns out the railroad had a different idea.
The short street that goes from the highway to the state park cuts across the train tracks, and when I got there a very long freight train was stopped across the intersection, and didn't seem likely to move anytime soon. I figured I might as well take a pictures of the train, as take a pictures of the buildings, so I parked my car right there (it's not like there's anyone else around) and got out to snap a few shots.
I realized, as I was looking at the scene, that the state park was right there! Literally just across the street. I could see it between the train cars. So that's what you're seeing in some of these pictures – the state park entrance and buildings, as I saw them from across the road, and across the tracks.
As I was photographing the train and the state park I heard the horn of another train, and saw it's headlight in the distance. Probably the reason this one was pulled over and stopped. Turns out that was an Amtrak – the southbound San Joaquin – flying by.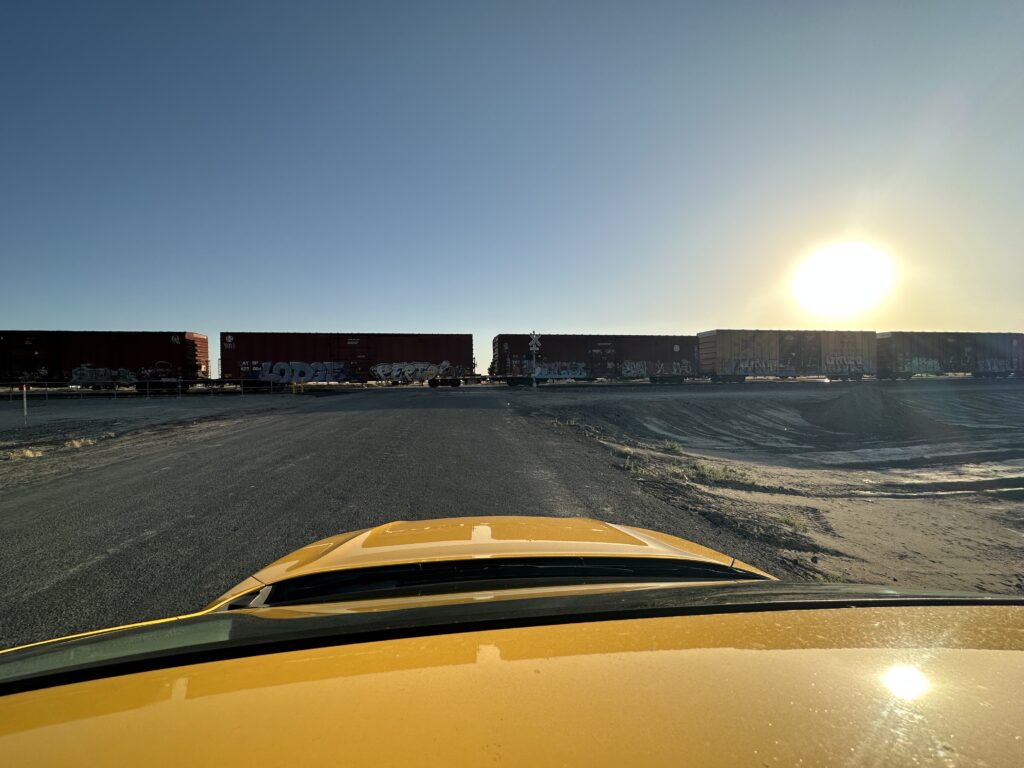 Finally, Tulare Lake!
Well, it turns out that at least from the direction I approached it it is not possible to get right up next to the lake. I did see one flooded area to the south (the first image), but I think that was a separate issue, and may even be a groundwater recharge project. But I got a couple of photos from a distance. If you look closely, you can see a thin silver line across the entire horizon. That's the lake!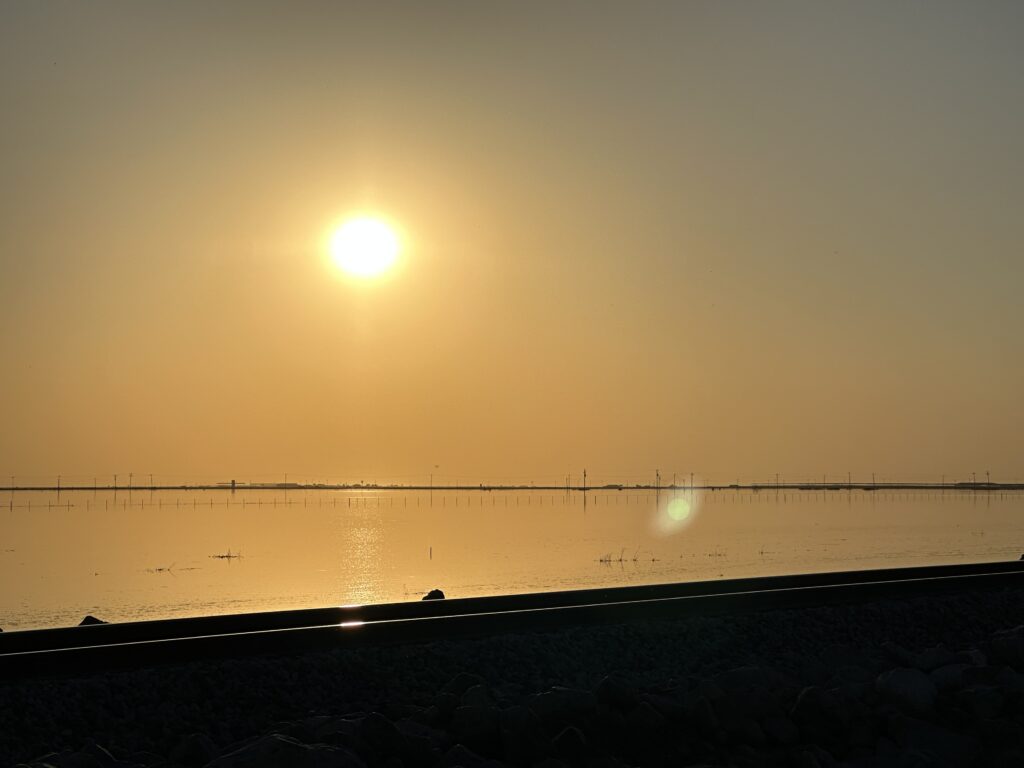 What's Next?
My plan for today is to drive from Fresno to Angels Camp, via Highway 49 — the route through California's gold country.
I plan to see Friant Dam/Millerton Lake, visit the California State Museum of Mining and Minerals, and end the day walking among giant redwoods..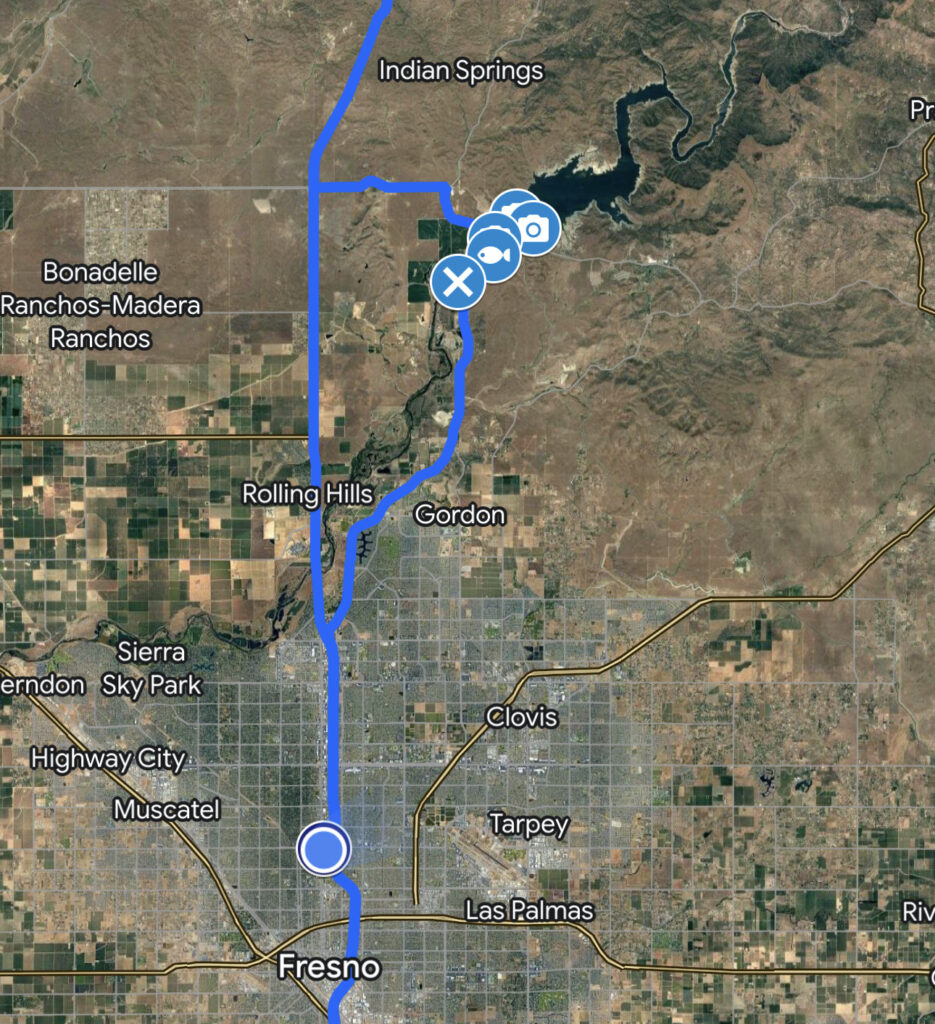 I had best get moving! Only about half as much driving today as yesterday, but a lot more to see.
---
Further Exploration for Today's Adventures
Be sure to check out my post, California History Resources for Road Trips, where I share several excellent books/audiobooks, tours, videos, and websites.
---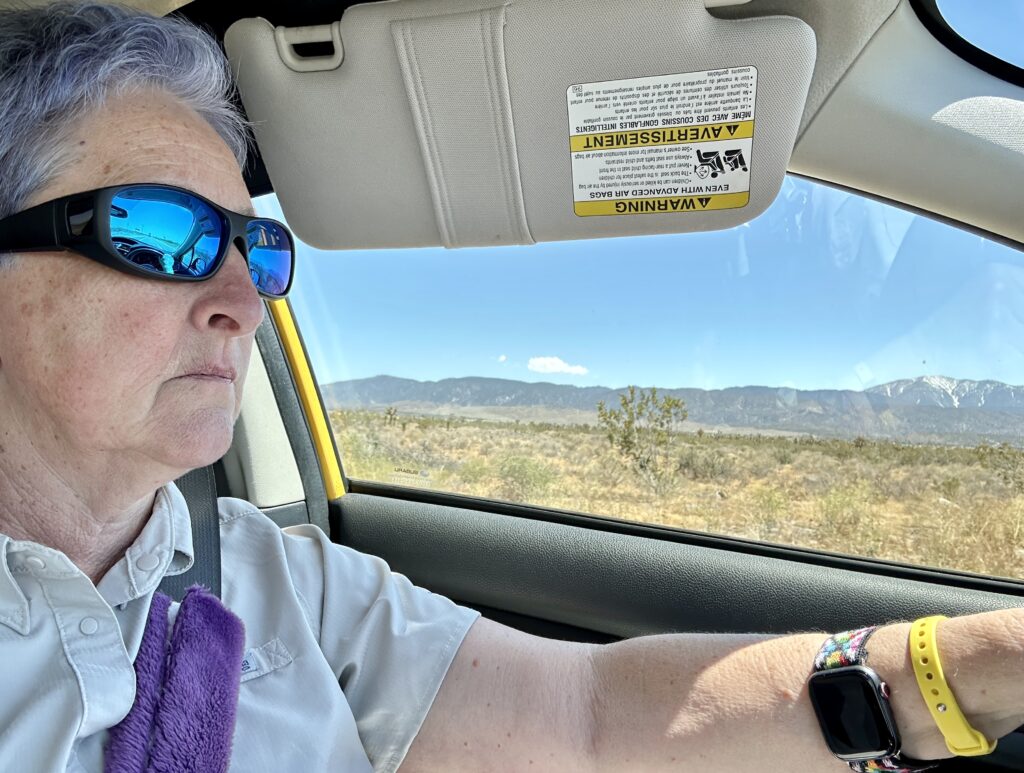 ---
About the Author — Linda Eskin
Linda Eskin began practicing Aikido in 2009, at age 46. From the beginning she was inspired to explore how Aikido is taught and learned. In addition to mentoring adults, and now teaching a weekly Focus on Fundamentals class for students of all ranks, she assisted in the children's programs for over eight years.
Linda loves Aikido both from the technical perspective, and as a practice of awareness and embodiment. She is completing her forthcoming book, Aikido to Zanshin – 26 Essays on the Martial Art of Peace.
Linda's passion is encouraging people to begin, and supporting new learners of all ages.
Linda trains with Dave Goldberg Sensei at Aikido of San Diego, in California, and holds the third black belt rank, sandan.