Posting on Monday morning – from Granlibakken – about Sunday, June 4th
Entries – bokken – 13 jo kata – supporting each other – having fun – group photo – chill evening
---
Sunday was an absolutely lovely day. Wonderful training, great conversations, good food, and beautiful weather.
Yesterday I trained in three classes, skipping the before-breakfast class and the middle of the three afternoon classes. Aikido at Granlibakken is set up so you can pace yourself. It's fine to take time to rest, hike, swim, or whatever. In the morning, I opted for extra sleep, and in the afternoon I took a break to put my feet up.
Waking Up!
The mid-morning class, with Greg Fock Sensei, focused on entries, both empty hand and with bokken. [I am not sure I have his name right. I may need to come back and correct this.] Everyone was full of energy and enthusiasm, and he said his class was going to continue work from the earlier class on waking up.
We practiced a very close bypass throw, where you move right into your partner's space. That is disarming enough by itself, but then you add a little energy coming up from under, lifting them off their center and encouraging them to continue their forward motion.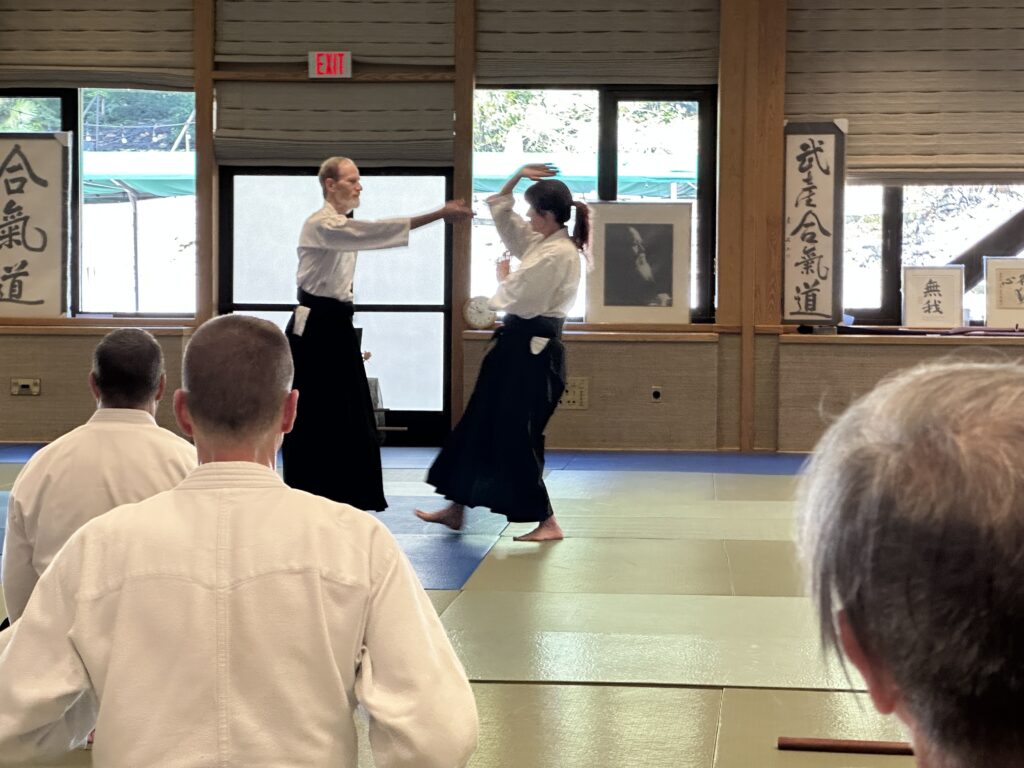 A Cool Kumi-Jo!
The first class of the afternoon was taught by Michael Friedl Sensei. First he taught the 13 jo kata, and then a very cool partner practice where each person is still doing the 13 jo kata, but one person is one movement ahead of the other. It's absolutely brilliant, and I can't get my head around how to design such a thing.
Mark Kruger and another student, Mike, who were both familiar with it, helped me out. Many thanks to them both! It was a little mind-boggling, similar to singing a complicated song in the round. Even Sensei lost his place once or twice while demonstrating it. It's always reassuring to know that our teachers are human.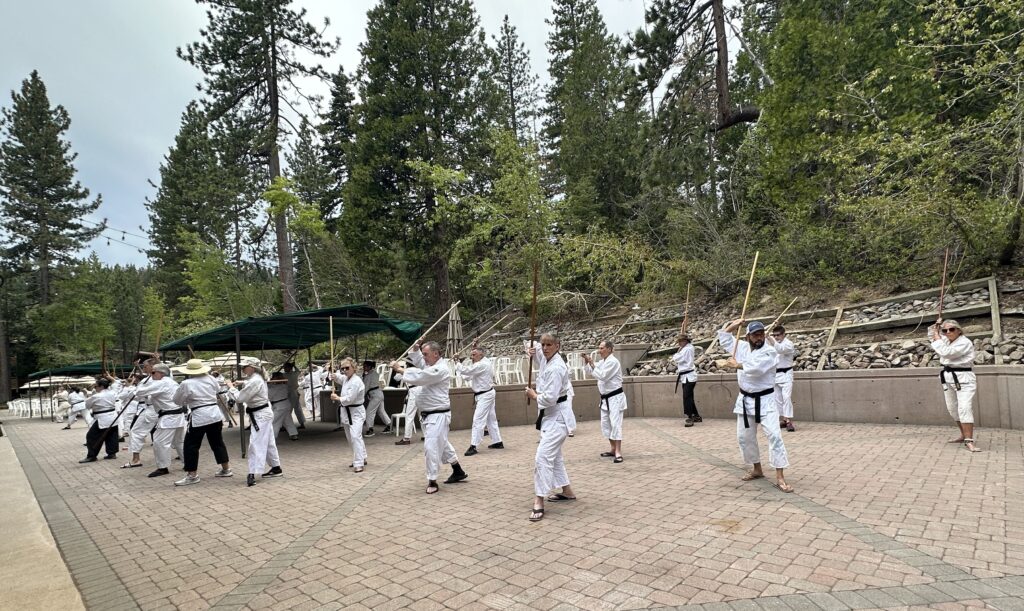 I would love to actually learn this and remember it. I was able to get some video, so I can review it when I get home.
I remember someone teaching something similar years ago, but the way I remember that one is that it had 12 counts, and the second six were responses to the first six, and vice versa. So two partners doing that kata could start at count one and count seven respectively, and continuously perform the kata, creating an endless loop of actions and responses. I will have to ask Friedl Sensei about that. It seems like something he might have done. Whether I can re-discover that one or not, it would be a challenging exercise to come up with one like that on my own. Maybe a project for my yondan demo, years from now.

One And Two And Three And Four And
Craig Fife Sensei taught a blend from a slashing knife attack. He used an interesting approach – he had us count time, like in music: one, two, three, four, with the attacker, Uke, moving forward and slashing on each count, and Nage stepping back out of the way each time.
Then he introduced the concept of half beats — the "and," that you hear in rhythms. It's on that "and, "that you want to enter into your partner's blind spot.
The whole thing was very much like one of the tanto takeaways we practice at our dojo, except instead of grabbing the wrist in gokyo, Fife Sensei had us enter into the attack and to do irimi-nage. What I found interesting about that was that it had never occurred to me before. It was obvious, after doing the blend, that the technique was available, but I had never just discovered it. Hmm…
My Aiki Road Trip 2023
This post is part of a series: My Aiki Road Trip 2023. For about two weeks I'm sharing my adventures and photos on my way to the Aikido at Granlibakken retreat at Lake Tahoe, insights and fun during a week of great Aikido training with dear friends, and the trip back. I'm driving through the Mojave Desert, San Joaquin Valley, California's Gold Country, and High Sierra, exploring the historic water situation — rivers, reservoirs, dams, flooding, and Tulare Lake, plus gold rush history, and amazing nature and scenery.
At the bottom of each post I include resources for further exploration about each day's adventures – books, videos, maps, links, images, etc.. For the trip in general, here are more California History Resources for Road Trips.
I mostly posted these from my phone, with limited Internet access. There may be typos and glitches. I'll come back to fix them later. You can email me at [email protected].
Supporting Each Other
There is so much camaraderie and support here. It's wonderful to see, especially given that there are so many new participants at the retreat. As I mentioned above, Mark and Mike were kind enough to help me with that challenging jo partner practice. I saw the same generous sharing over and over again on the mat.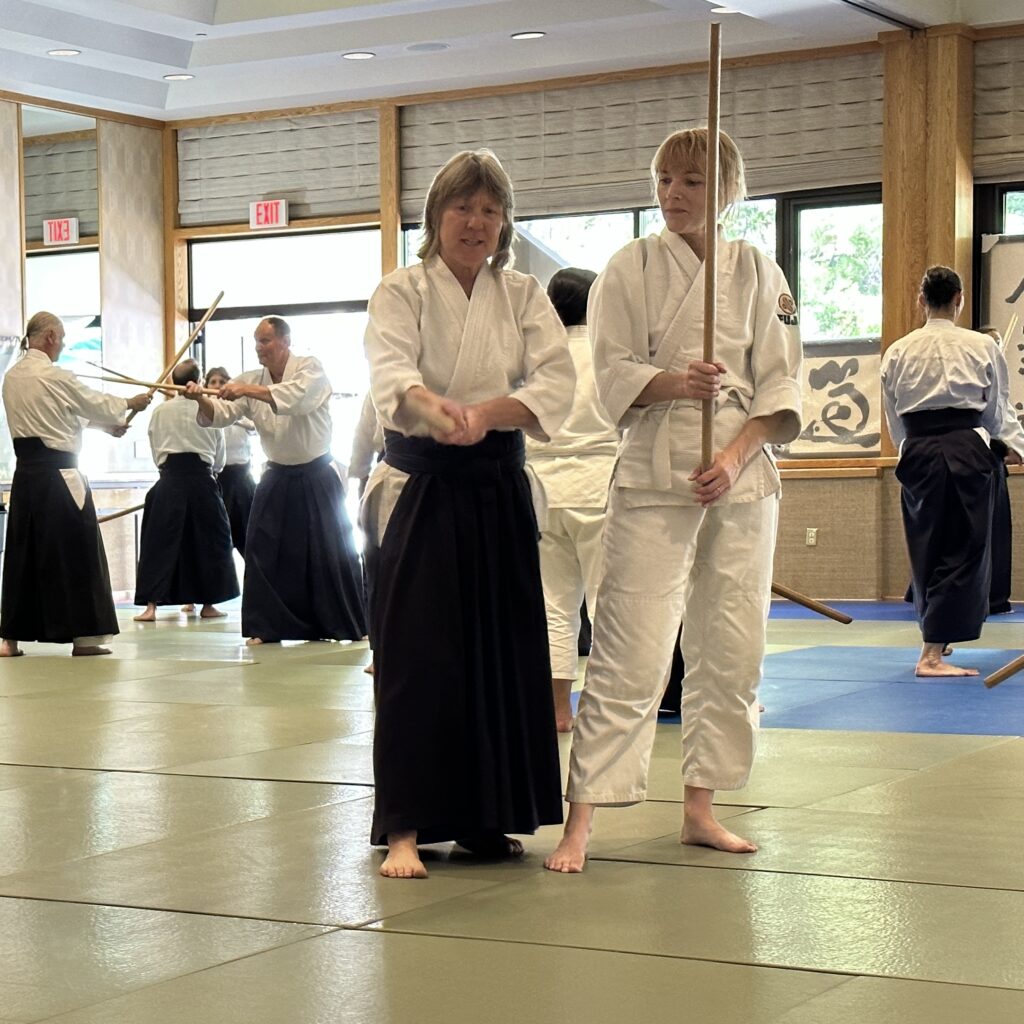 Just Plain Fun
Another really cool aspect of this camp is the goofing around. There is serious training, of course, and important principles are taught, but when you get a bunch of long time friends together, and a bunch of new energy, there's also a lot of fun to be had.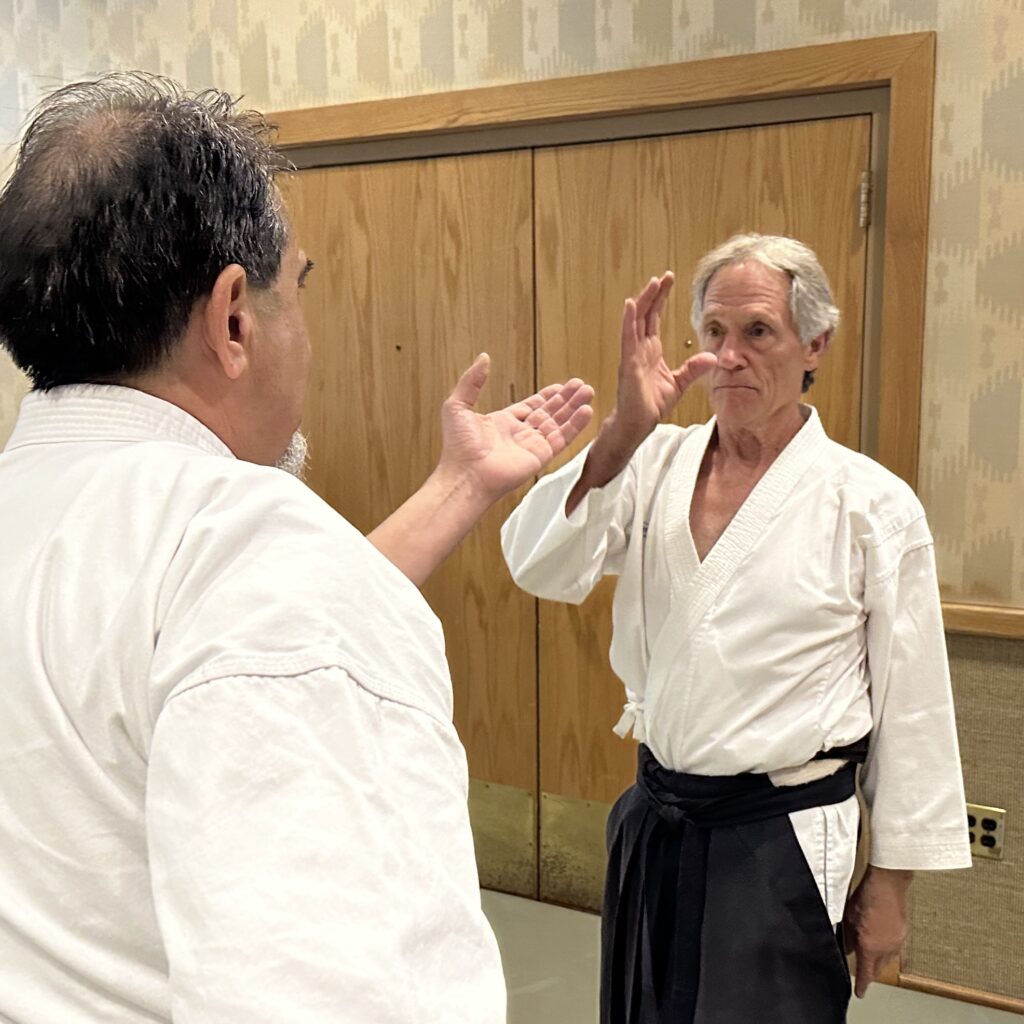 Not only did we have fun while training, but people are starting to prepare for the infamous Aiki Follies. Today Jem Alvarez Sensei gave a brief and tongue-in-cheek sumo demo to promote his sumo quiz game. That should be fun!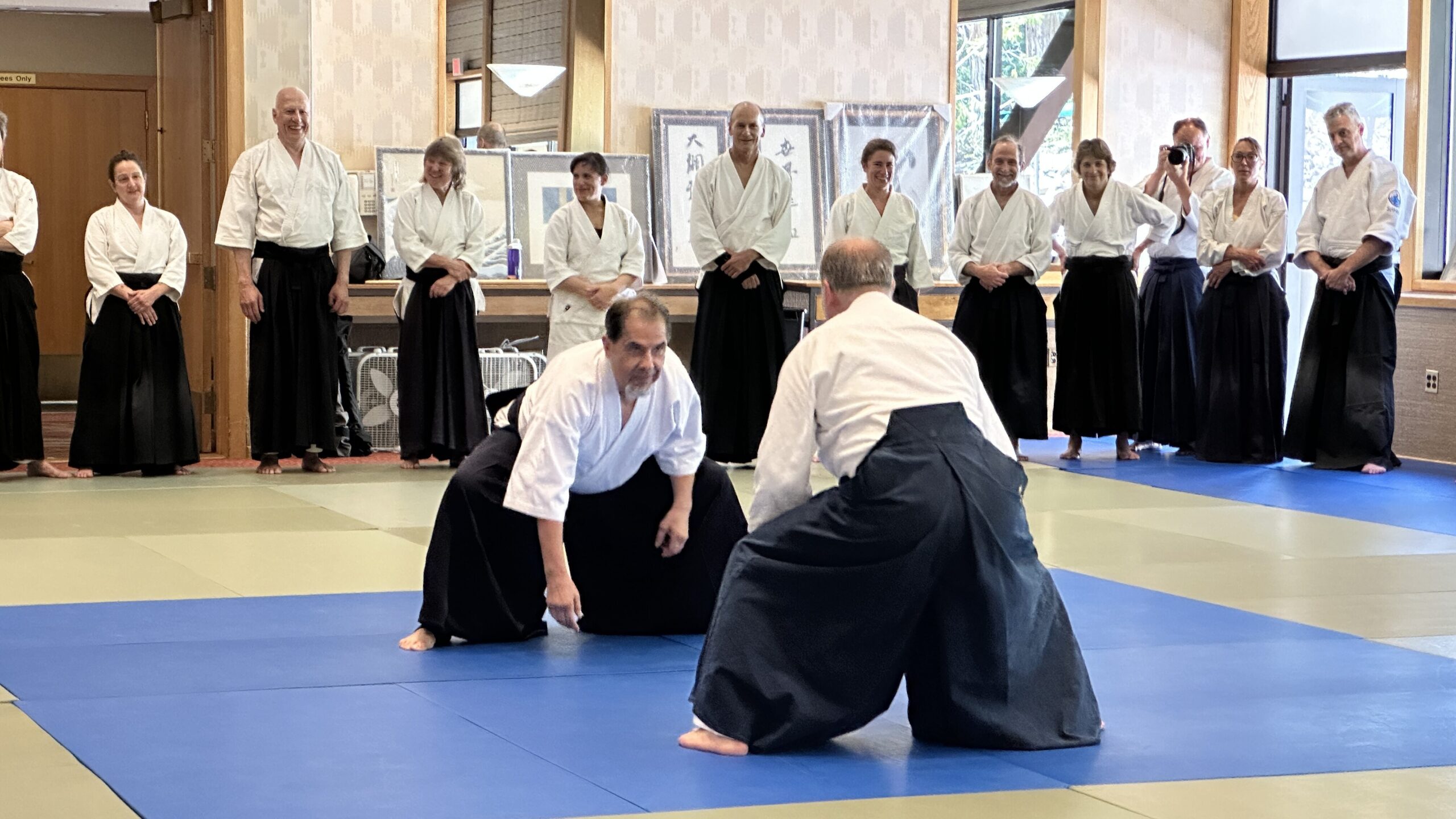 Group Photo Day!
An important part of any seminar, retreat, or camp, is the group photo. I know the organizers will share the official photo, but here's the view from the lineup.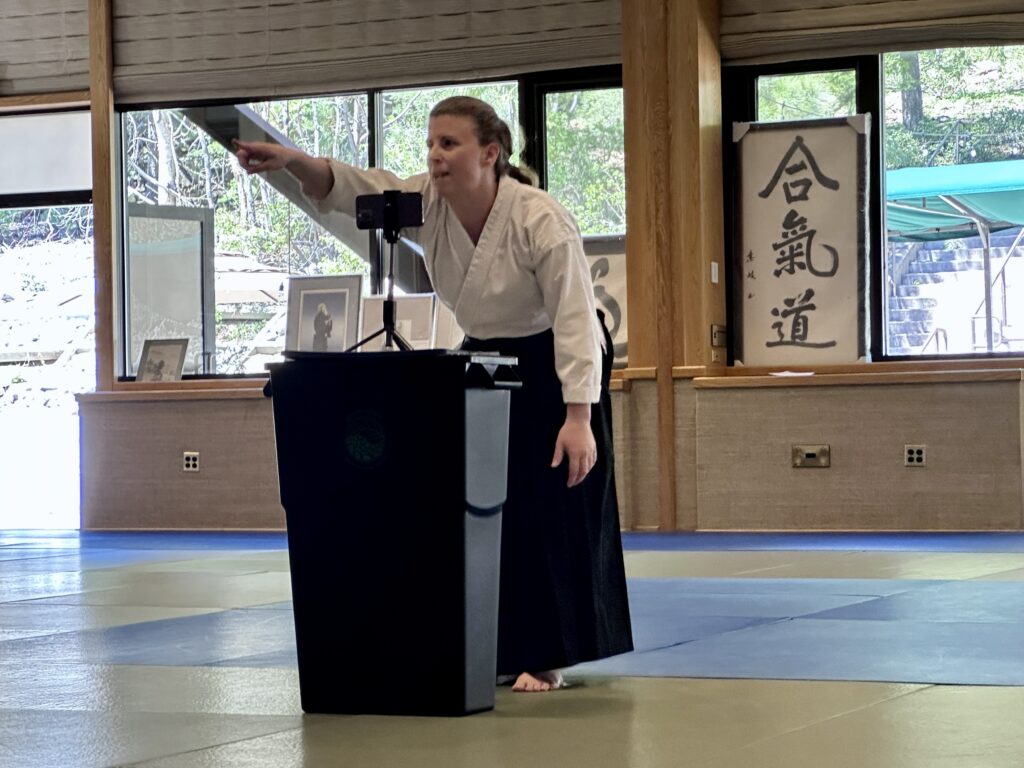 Weather Report
The weather here has been absolutely beautiful. Clear days that are just crisp enough to enjoy standing in the sun for a short while, with mornings and evenings that call for a sweatshirt if you aren't up and moving.
There is a good chance of rain every day for the rest of the retreat, but in Tahoe that means thunderstorms that build up, dump some water here and there, and then disperse. The rest of the day is gorgeous.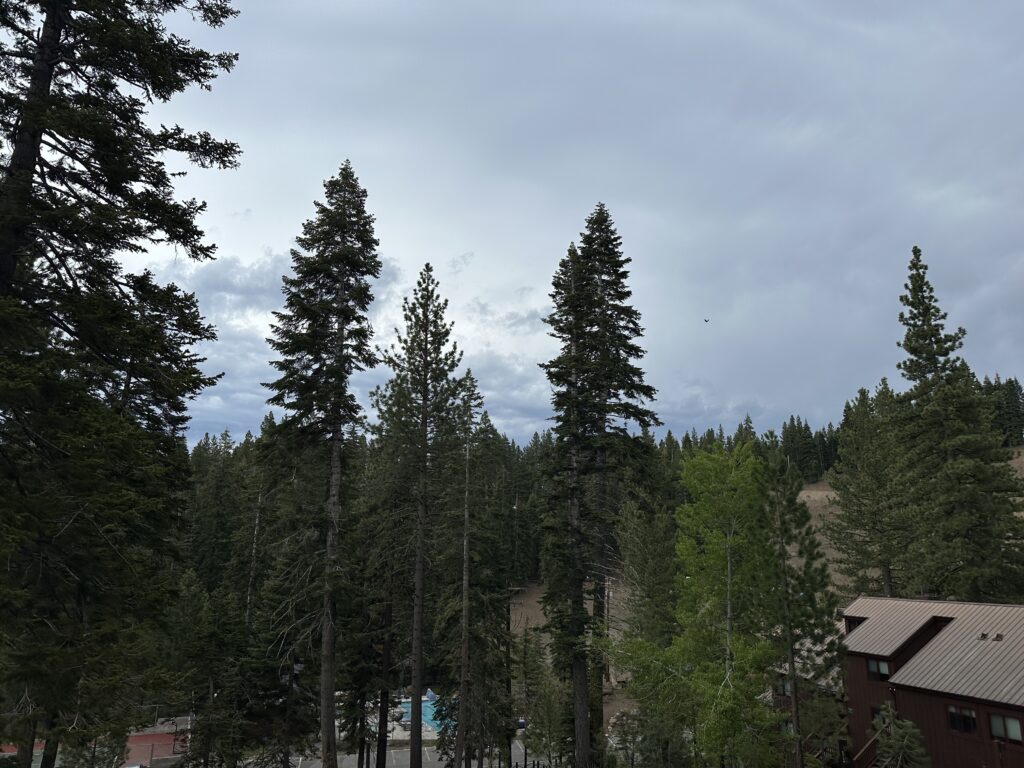 At about 3 PM on Sunday the sky was covered with dark and threatening clouds, and there was continuous rolling thunder in the distance. We rarely get thunderstorms at home, so it's kind of fun to watch the weather changing so quickly here.
A Relaxed Evening
Sunday was the first day in a very long time when I started to feel like I wasn't rushing and running behind. I took some breaks, had some fun, and enjoyed the day. I got to train with more friends on the mat, and had some nice discussions with folks over meals. I am stubbornly eating outdoors, to avoid the crowded dining room, and there are quite a few of us out there, so no shortage of friends to hang out with.
In the evening I considered going to the pool, hot tub, and sauna, but that sounded like a cold walk down, and a colder walk back, plus a potentially late night. Instead, I opted for hanging out on my balcony and writing. On my way to my room I picked up a peach tarragon sangria, courtesy of one of the drink tokens we were given when we arrived. It was delicious — perfect to accompany the changing sky at dusk and the laughter and singing wafting up from the hot tub down the hill.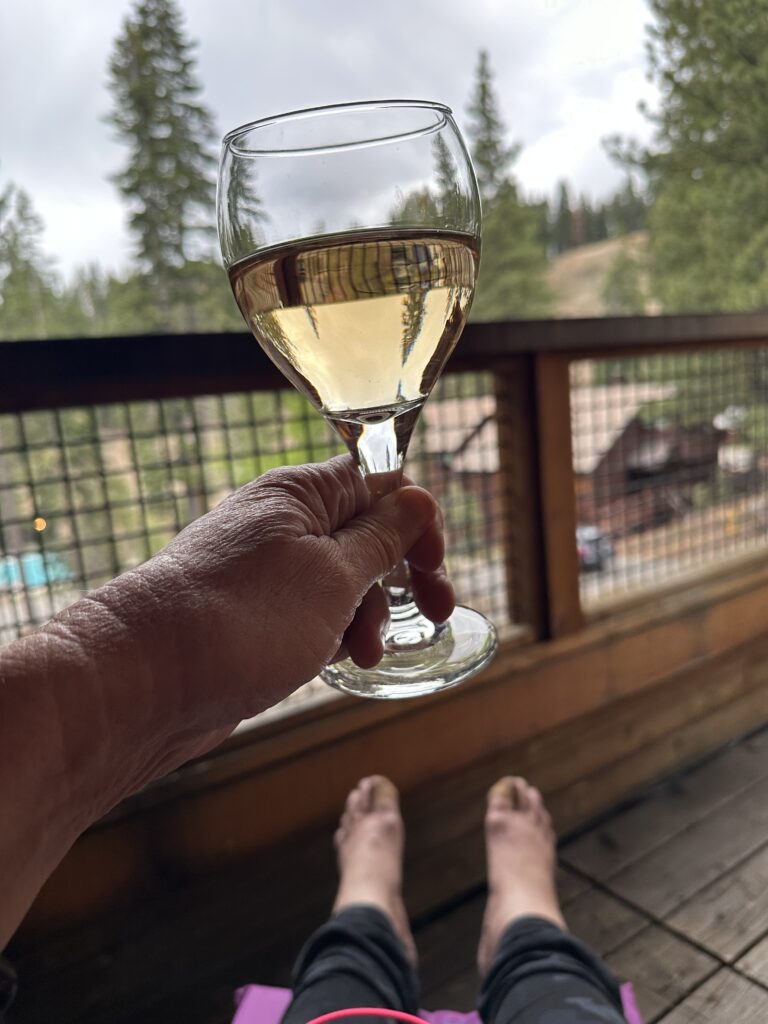 Today Will Be Different
The retreat this year is one day longer than in the past. That means we have a partially free day on Monday. We will be training early in the morning, then have the rest of the day to do as we please — hang out at the pool, go for a hike, visit one of the many state parks in the area, etc.
I had toyed with the idea of going rafting down the Truckee River. It's typically an easy float down a scenic canyon, and sounded like a mellow sort of adventure. But the current water management strategy has shut down rafting until at least July. They are releasing less water from Lake Tahoe so that the reservoirs downstream don't get overwhelmed between that and the snow melt coming into them, so there isn't enough water in the river for rafting.
I've had two other ideas in mind. The first is to go to the train museum in Carson City and then possibly to the historic silver mining town of Virginia City, both in Nevada. The other possibility is to go to the Donner Memorial State Park, Donner Pass, and Donner Lake.
Or I could go for a hike or just wander around taking photos in one of the handful of state parks along the shore of Lake Tahoe.
"Lake Tahoe, once called Lake Bigler and as such is on your maps, is the largest sheet of fresh water in the state. Recent measurements in connection with the boundary survey make it twenty-three miles long and ten wide, but it has always before passed for much more. It has been recently sounded; its greatest depth is 1,523 feet, and most of it is over 1,000 feet deep. It lies at an altitude of over six thousand feet, while around it rise mountains four thousand feet higher. Its Indian name, Tahoe, was dropped and it was called after Governor Bigler, a Democratic politician. He was once of some notoriety here, but since he has turned "Secesh" all the Union papers have raised the cry to have his name dropped, and the old Indian name has been revived and will probably prevail.

The purity of its waters, its great depth, its altitude, and the clear sky all combine to give the lake a bright but intensely blue color; it is bluer even than the Mediterranean, and nearly as picturesque as Lake Geneva in Switzerland. Its beautiful waters and the rugged mountains rising around it, spotted with snow which has perhaps lain for centuries, form an enchanting picture. It lacks many of the elements of beauty of the Swiss lakes; it lacks the grassy, green, sloping hills, the white-walled towns, the castles with their stories and histories, the chalets of the herders—in fact, it lacks all the elements that give their peculiar charm to the Swiss scenery—its beauty is its own, is truly Californian."

Up and Down California in 1860-1864: The Journal of William H. Brewer
Here's the Tahoe area, in my atlas.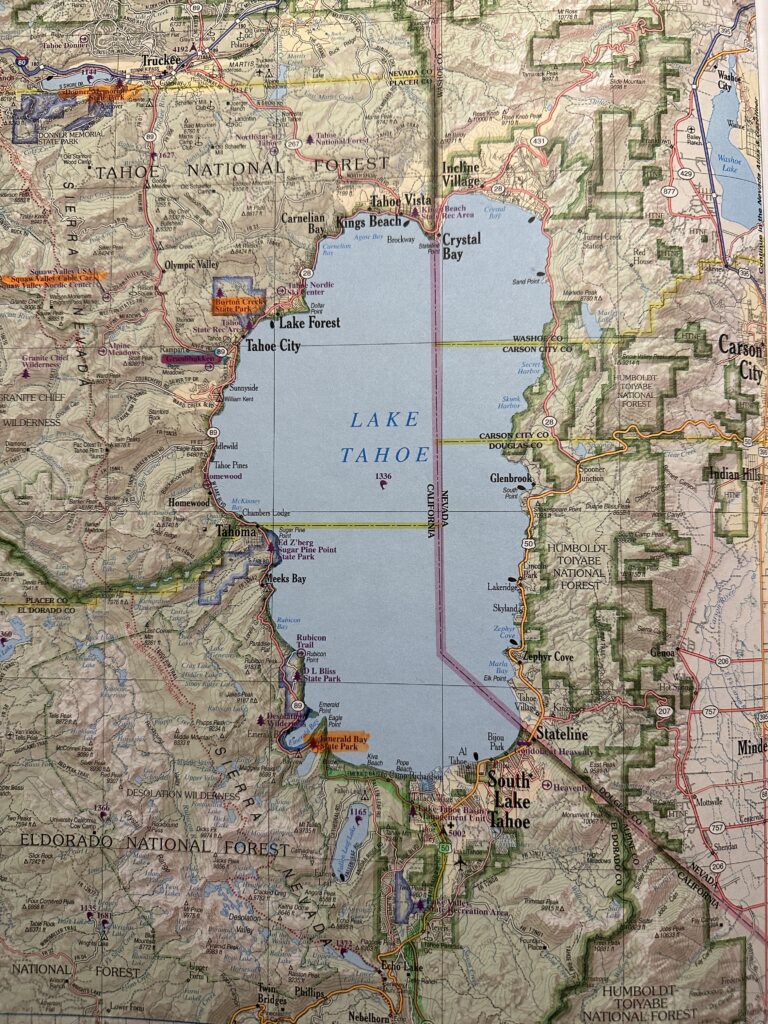 Before we leave on our respective adventures for the day we will be able to create our own box lunches to go, from a build your own sandwich bar. And we have the option of having dinner here if we want to.
Should be an interesting day, whatever I decide to do. Stay tuned!
---
Further Exploration
Be sure to check out my post, California History Resources for Road Trips, where I share several excellent books/audiobooks, tours, videos, and websites.
---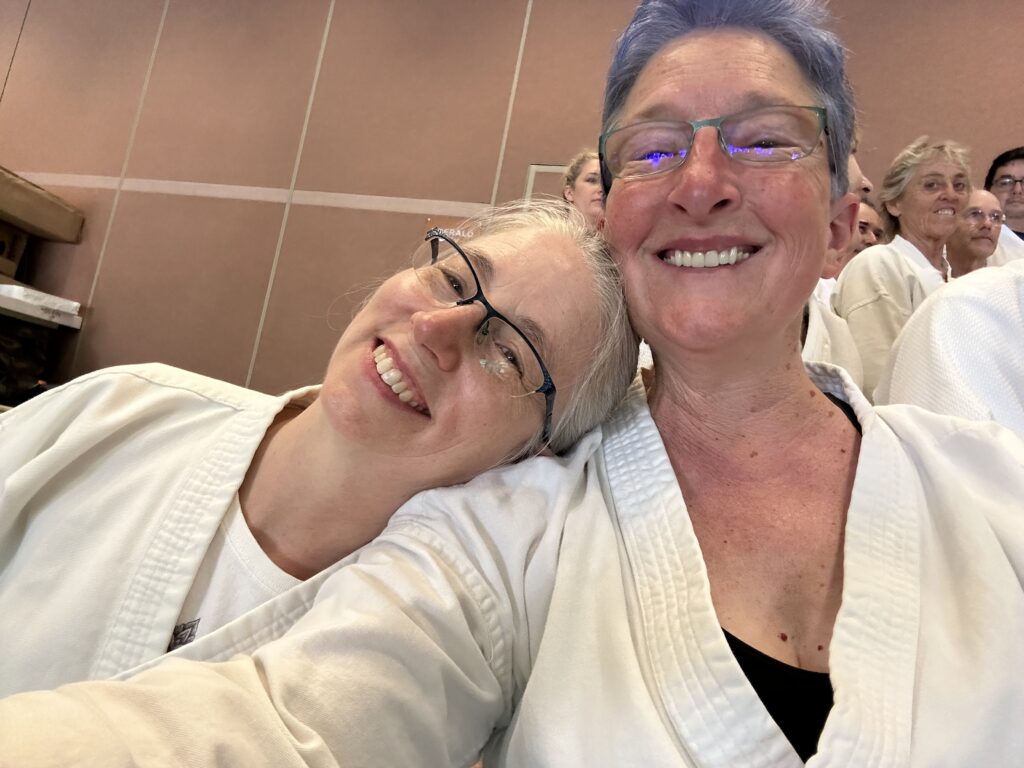 ---
About the Author — Linda Eskin
Linda Eskin began practicing Aikido in 2009, at age 46. From the beginning she was inspired to explore how Aikido is taught and learned. In addition to mentoring adults, and now teaching a weekly Focus on Fundamentals class for students of all ranks, she assisted in the children's programs for over eight years.
Linda loves Aikido both from the technical perspective, and as a practice of awareness and embodiment. She is completing her forthcoming book, Aikido to Zanshin – 26 Essays on the Martial Art of Peace.
Linda's passion is encouraging people to begin, and supporting new learners of all ages.
Linda trains with Dave Goldberg Sensei at Aikido of San Diego, in California, and holds the third black belt rank, sandan.