Hi Friends! I hope you are well and enjoying training. It's been a while. Every day I have a handful of ideas for new posts, but it seems that when I have the most to write about, I have the least time to actually write. D'oh! But I've been stuck at home fighting a cold, with nothing else on the calendar for the day, so I was able to get a good start on actually writing something. So here's a quick overview of what's up with me, and one big realization, which I'll save for last.
I'll go into more depth on several of these topics in upcoming posts. For now, just catching up a little.
Aikido Training
My primary focus, as usual, is Aikido training.
In November I tested for the rank of sandan (third-degree black belt), along with one of my awesome sempai (senior-to-me friend), and a kohai (junior-to-me friend) who earned her black belt. It was a big day! Training for it was an adventure and an honor. I'm so grateful to my teacher, Dave Goldberg Sensei, and all my dojo mates for their generous teaching, coaching, and encouragement.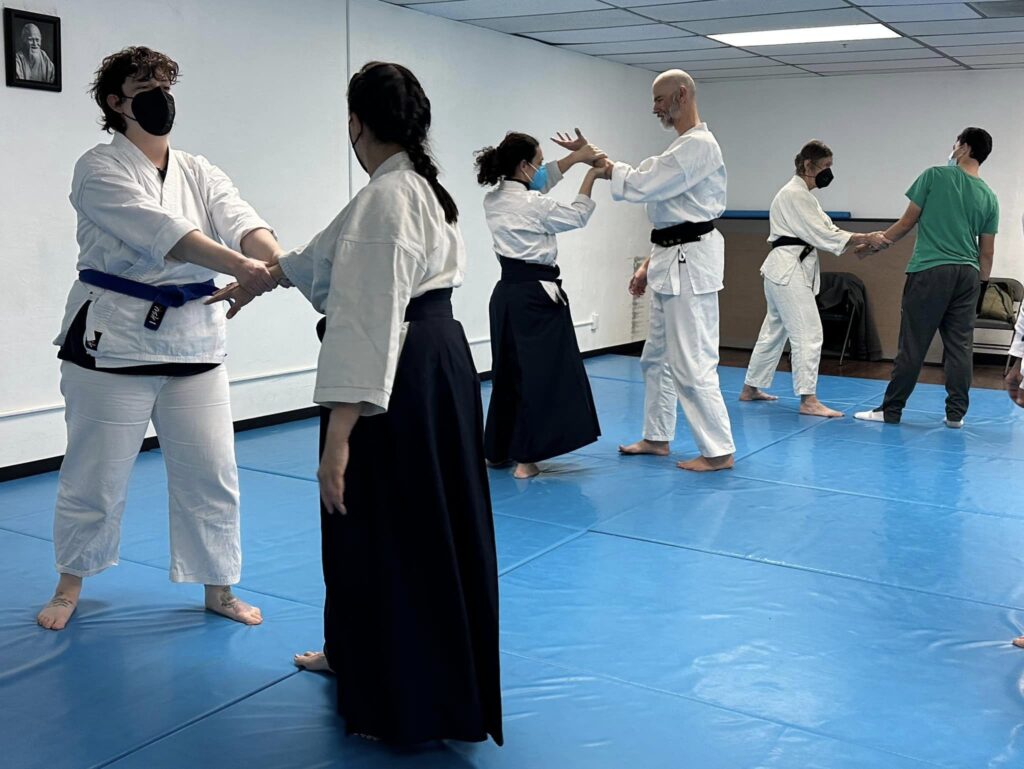 Since then I've been helping some of the next folks to come along. We have students testing for nidan (second-degree black belt), 1st kyu (the rank just before black belt), and several for 5th and 6th kyu (two of the earlier tests) . They are all training hard and determined to do their best. It's inspiring to be a part of their journey.
To help one friend with recognizing names of Aikido techniques I've created a few study-aid worksheets. I'll be cleaning those up a bit and sharing them here.
Aikido Road Trip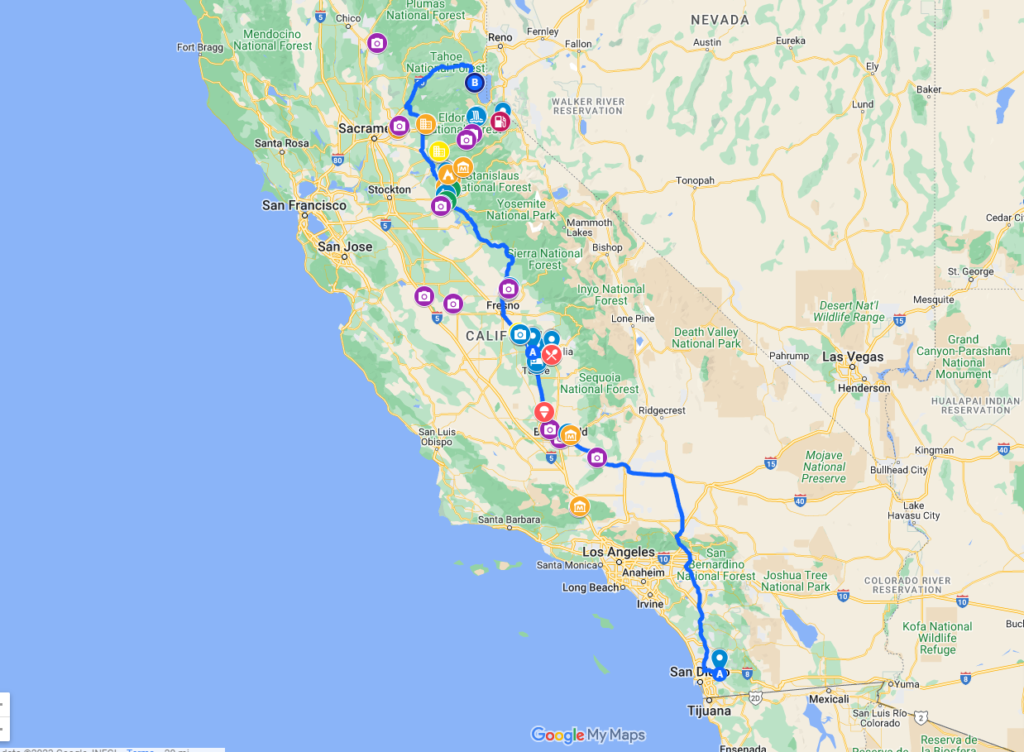 I'm also mapping out my first Aikido road trip since 2019, from San Diego to Tahoe City for Aikido at Granlibakken. That's very exciting! This 7-day retreat carries on the tradition of the Aiki Summer Retreat (Dominican College, Menlo Park, Feather River/Quincy, …), and many of the participants have been going for decades. It's a wonderful, welcoming, and fun training experience and I've really missed being there and training with all those friends the past few years.
Because of the very wet winter (and spring) we've been having it's also going to be an awesome look at California's historic water situation: full reservoirs, raging rivers, dams and spillways, aqueducts and canals, lakes, and flooding. I'll get to visit with Michael's parents, who I haven't seen in four years, thanks to the pandemic! And I learned that Yosemite Valley only adds 90 minutes to my planned route, so taking a day to see the sights there, for the first time in ages, is a no-brainer. I'm really looking forward to an actual vacation adventure; it's been way to long.
Teaching Aikido
For ages I've been dreaming of teaching a class of my own at the dojo. I'm thrilled to say that since the beginning of February I've been doing exactly that! The class is Focus on Fundamentals, every Tuesday from 5:15 to 6:15, before the regular evening class.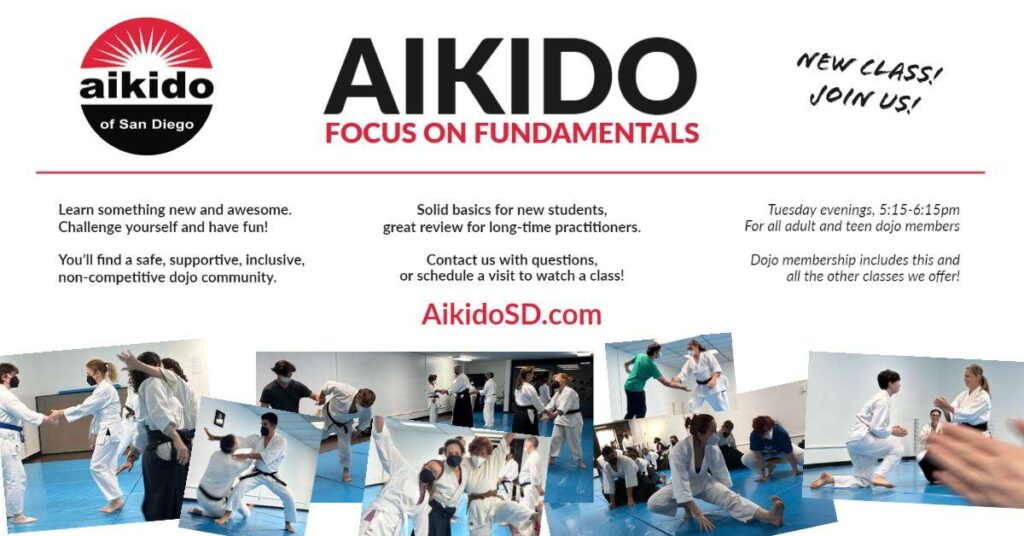 I've been in the senior student teaching rotation for years, taking on a class every month or two, and assisted in over 1,000 classes in our children's program, but I've always wanted to plan and present an adult class with a coherent curriculum from week to week.
Topics vary, depending on who's on the mat, and what they need at the moment, but whatever it is we look at the whys and hows, and practice slowly and mindfully. My passion is supporting adult beginners, but the class is for all levels. I love it when more experienced students participate, and sometimes see a technique or principle from a new perspective.
Writing About Aikido (and Fitness)
I've finally had a bit of a breakthrough in working on my current book, Aikido to Zanshin — 26 Essays on the Martial Art of Peace, and can see the light at the end of the tunnel for getting it done.
Next up, and already well underway, will be a book encouraging people who are just starting on their fitness journeys — people who may feel alienated or defeated by the "look great in a bikini," or "train until you puke" messaging from the fitness industry. As a personal trainer and one-on-one fitness coach I can only reach a few people. I hope that through this book I will be able to empower folks who might not see fitness as being "for people like me," and get them moving and having fun.
Throwing Heavy Things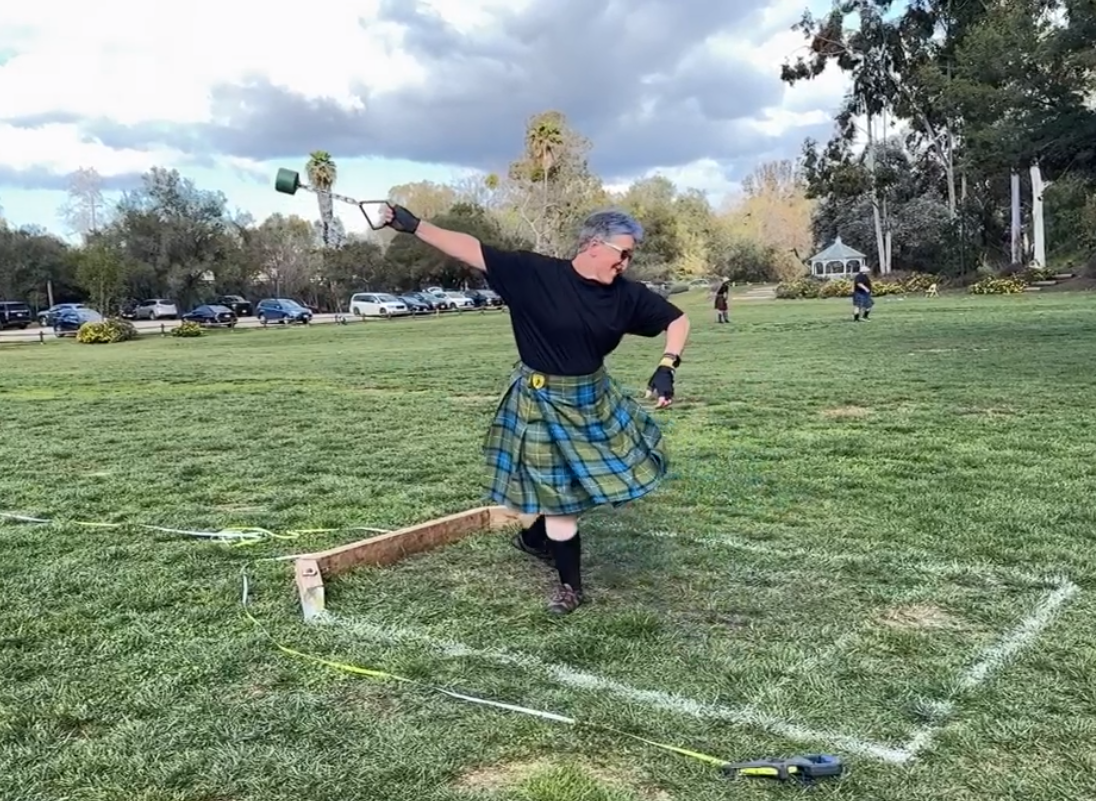 I've discovered a really fun activity that's surprisingly compatible with Aikido and the rest of my life: Scottish Heavy Athletics. You might also know that as the Highland Games. I need an excuse to work out – a reason, a deadline, something, so I made it a goal to compete (with no hope of winning, just for the heck of it) in the San Diego Highland Games this June. I went just to watch last year, to get the lay of the land, and it looked like fun. Turns out it really is fun! I've already competed in the local Season Opener games, and have been training (sporadically – see the next bit, about nature) on my own and with friends, with at least two more competitions coming up.
Weather and Nature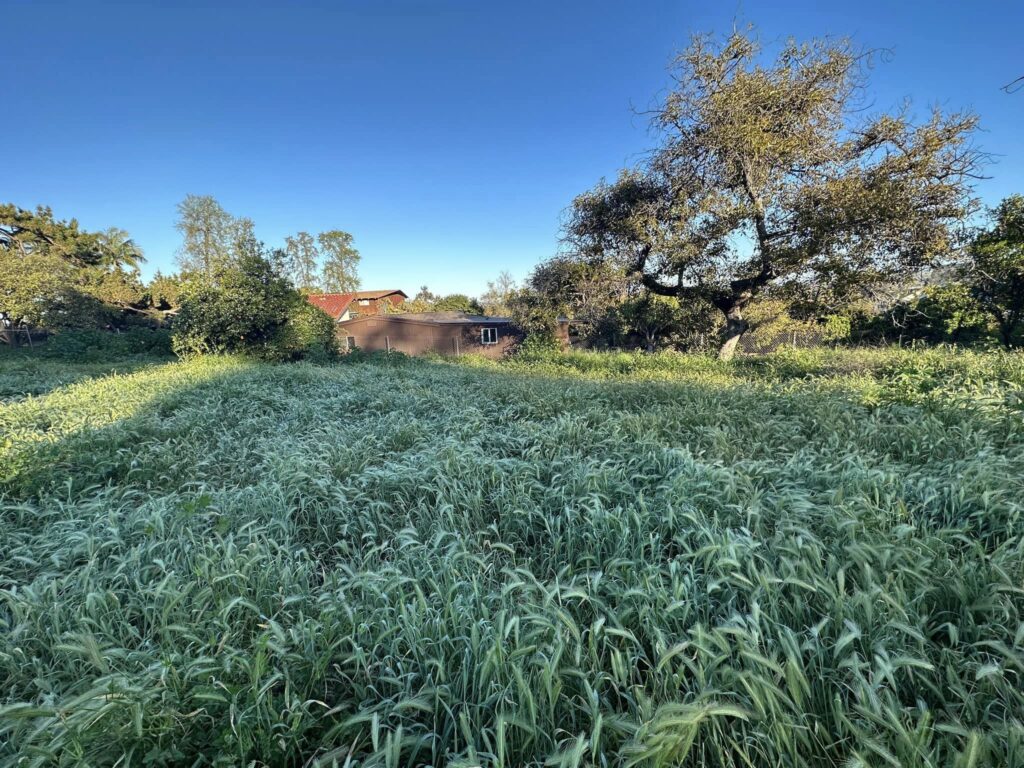 As a life-long resident of San Diego County, in the southwestern corner of water-impoverished California, I'm never going to complain about getting rain. But man… We've gotten a lot of rain! And that means the yard has been growing like crazy, and there haven't been many good days to deal with it. The trees are happy, which is great, but the grasses, mallow, and other random plants have gotten a bit out of control.
We've finally had a break in the weather where it's possible to get some work done. I love clearing this stuff out with my scythe, but this is too much. I could spend an hour a day, every day, for the next month, and not keep up with it. (Not that I have that much free time anyway!) We need to get this cleaned up before it dries out in a month or two and turns into a fire hazard. Luckily, we know a guy… He's already spent one very long day so far, and managed to get about half of the backyard done. It looks a lot more civilized, and now I have a place where I can safely practice throwing things!
ADHD & Neurodiversity
Finally, my big personal realization. I have struggled all my life, and suspected for over 20 years that I probably have ADHD. Taking a fresh look at where I am and where I want to go at 60 I see that, while I have always had a lot I want to accomplish, trying to get it done has been a serious uphill slog. I finally came to understand that ADHD doesn't have to be something I "just have to put up with." I decided it would be worth my time to get a proper assessment and seek treatment.
A few months ago I was officially diagnosed (ADHD, Combined Presentation). It's absolutely legit to "self-diagnose," and take whatever actions you need in order to improve your life, but one needs a diagnosis report from a professional to be able access treatment. Now I am working with a specialist in medication management to find the right approach to treating it, and am implementing all sorts of new behavioral strategies – in addition to many I'd discovered myself over the years. Nothing miraculous, but making progress.
ADHD and autism overlap – a lot – both behaviorally and genetically. Some new thinking is starting to consider that they might be different aspects of the same syndrome. I see a lot of autism or Asperger's syndrome qualities in myself, so will be getting evaluated for that as well, just for my own information and to gain insights into "how I work."
A Bit of Information about ADHD and Autism
I'll write more about this, for sure, especially about how Aikido is a particularly good activity for anyone on the ADHD or Autism spectrums. For the moment, a few important points:
Unless you have been reading current literature in the past 10-20 years, almost everything you think you know about ADHD and autism is wrong.
ADHD is a genetic neurodevelopmental disorder affecting executive function – your ability to control what you focus on, your perception and management of time, and to actually do what you intend to do. Your brain works differently. It is not a character flaw. "Just try harder," which we've heard and internalized since childhood, isn't an effective strategy.
For anyone older than 50, especially women, if you have ADHD or are autistic, you almost certainly were not diagnosed early in life. It was too early in our understand of the disorder, and it was thought a the time the "girls don't get ADHD." (I know it will shock you to learn this – yes, that was sarcasm – but early research focused on trouble-making boys and used those findings to establish diagnostic criteria, which of course didn't fit girls' experiences and manifestations.) If you've been struggling all your life, you don't have to continue doing that. It's never too late to get diagnosed so you can get treatment and learn better ways to approach things.
Here's a video I highly recommend as a starting point for understanding ADHD. It's only 13 minutes long, and absolutely jammed with clear, useful information:
Fitness Coaching
Oh yeah, one last thing: I regularly need to earn Continuing Education Credits (CECs) to keep my fitness certifications current. This time around I'm completing a National Academy of Sports Medicine (NASM) course on coaching for Behavior Change. The course will give me the information, tools, and skills to call myself a Behavior Change Specialist.
Because I've left it until the last minute (OK, the last month) it's going to be an intense period of study for a few weeks. But it's a subject I love, and one of the most important skills you can have if you're going to be coaching people.
Maybe I'll curl up with a cup of hot tea and the textbook and knock out as much of it as I can while I get over this danged cold.