Gaah. Back on track with fitness and eating habits. And off track. And on again. And off, and on… D'oh.
I've decided (again) to finally lose some extra pounds. I was at 179. My goal is to get to 159 by early November (a pound a week). I'll be testing for nidan (second degree black belt) in late February if all goes according to plan, and it would be great to spend those last 4 months of intensive training in better shape, and with 20 fewer pounds to haul around. I've been logging everything for a week now and have dropped a few pounds already. I should do a "before" body composition DEXA scan, so I can see how much progress I've made later.
At the same time, my right foot has been bothering me. Hurting under the ball of the foot if I walk barefoot on a hard floor (the mat at the dojo is fine, thank goodness). It's been going on at a low level for at least a year, but now my toes are going numb if I stand still for more than a couple of minutes, and I'm feeling buzzing/twitching in the surrounding muscles and skin. I do have peripheral neuropathy, but this isn't that. I think I've got some nerve pinching going on.
Because of the PN I hate wearing closed shoes. They are so painful that I didn't even make it out of the parking lot when we went to our big local fair last week before I turned around and went back to the car to switch to my flip-flops. Way better from the PN perspective – ahhh – but walking in them for 8 hours was probably not the best thing for the structural issue. So that's been annoying. I've been limping, holding tension, and compensating, and that makes everything else hurt, too. I'm seeing my chiropractor today (anyway) and will ask his advice, and am searching for a good sports podiatrist.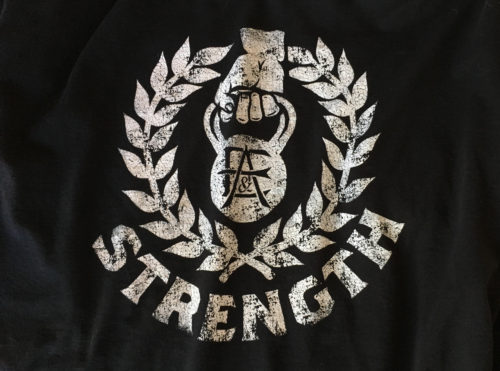 Meanwhile, I signed up for a one-day StrongFirst Kettlebell Course! It's on July 15, so I need to get a little bit warmed up for it by then. It's appropriate for "beginners" but I think their idea of a beginner is someone at a pretty high level of fitness. I'm really looking forward to it. This is the only course in the area all year. The only other one on the west coast is in Santa Maria in December. I would like to go on to do their SFG I Kettlebell Certification course in March 2018, too, so the July one-day thing is a must-do.
The only uh-oh there is that I realized I train barefoot on a mat at home, but in the class I'll have to wear shoes on a hard floor. Shit. So over the next few days I'll be trying out my collection of unused walking/running shoes to see which might be tolerable.
And yesterday I was having a really discouraged day, 'cause my foot hurt, even sitting with it up much of the day, and icing it. But I went to class (which usually helps everything), counting on having a pleasant evening, training with friends, and getting 2 hours of exercise (which already entered in MyNetDiary). Managed to drop a partner's knee smack on the outside edge of my right foot. &#$@. No real damage done, just bruising, but painful enough that I sat out both classes icing it. So no exercise for the day. Then I went home even more discouraged and ate too much. *headdesk*
Today is another day. The side of my foot feels better – only tender if I touch it. I will survive a day of wearing shoes in two weeks. (Funny how I'm more concerned about that than about 8 hours of playing with kettlebells.) I will eat better today (even though tonight is date night). Get off track seven times? Get back on track eight, dammit.
---
Photo: This is of one of my favorite tee shirts, by my Aikido-and-fitness friend Victoria Pitt of Empire & Aces. Victoria is a Personal Coach and Trainer/Manager of combat sport athletes in the Chicago area.